Channel Robot SARP FOR NATiVE iNSTRUMENTS KONTAKT [FREE]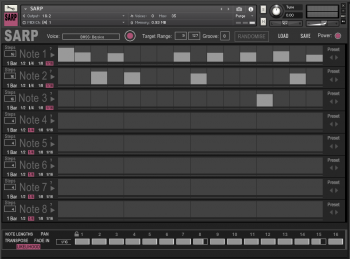 09.02.2019 | KONTAKT | 110 MB
Stand alone arpeggiator-instrument.
Sometimes its easier to just do rather than say, and our unique and creative arpeggiator is one such time. We've used the engine inside SARP in a range of products, Folio Bass, Phenomena, and others.
SARP showcases our advanced 'Multi-key' sequencer. Unlike other sequencers, this enables you to run up to 8 different sequencers at the same time- based on how many and which notes are pressed on your keyboard. The first lane corresponds to the first key pressed, the second lane to the second key and so on. It's incredibly flexible and easy to use.
There's only 8 voices to select from (2 Basses from Folio Bass, 2 voices from Phenomena, 2 from the up-coming KeyTone and 2 drum kits from the up-coming Folio Drums), so it's never going to be your go-to sound source, but for creative poly-rhythmic arpeggiations we think its unsurpassed.
You can make Kontakt send midi notes out so you can even place your sound-source-of-choice right after SARP-Kontakt in your DAW to get arpeggiated sequences using other instruments. So it should be really really useful straight out of the box.