String Audio Dark Matter v2.0 KONTAKT UPDATE-SYNTHiC4TE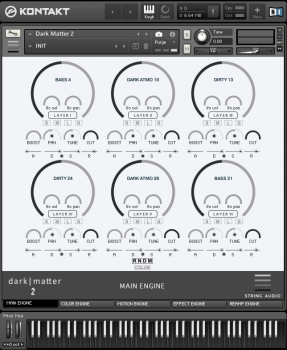 SYNTHiC4TE | June 16 2017 | 10.2 GB
DARK MATTER 2 is the ultimate tool to create outstanding textures, atmospheres, drones, soundscapes and pulses.
Dark Matter 2 Engine is divided into five sections: Main, Color, Motion, Effects and Reamp.
35+GB of original sample material (21GB using Kontakt's lossless sample storage compression).
All sample content of Dark Matter 1 (owners of Dark Matter 1 don't need to re-download it) plus 15+GB of brand new sample content (11GB using Kontakt's lossless sample storage compression).
5000+ high-quality samples.
6 layers.
340+ pre-programmed Snapshots.
Main Engine: Individual layer controls for pitch, volume, pan, solo, mute, effects bypass, layer lock, adsr, layer boost and cut, pan and amp LFO send.
Powerful randomize function.
Dedicated Motion Engine: Arpeggiator, Pan and Amp LFO.
Dedicated Color Engine: six separate convolvers, 120+ convolution Impulse Responses, Randomize function.
Dedicated Effect Engine: skreamer, lo-fi, chorus, tape saturation, delay, chorus and distortion (controlled by the modulation wheel, Randomize function.
Dedicated Reamp Engine: add punch and saturation to each layer and boost low, mid and hi frequencies.
Instant download.
All payments are processed securely by PayPal, all major credit and debit cards accepted, no PayPal account needed.
The price indicated in the shopping cart is final, no taxes or fees are added.
Minimum System Requirements
Requires FULL retail version (sold separately) of Kontakt 5.5.1.
UPDATE Notes

Copy the folder "Dark Matter 2" inside the original "Dark Matter 1" folder.
Don't erase or rename any of the files or folders.