Masterbits Climax Collection Volume 6 Saxophone CDDA-EtHnO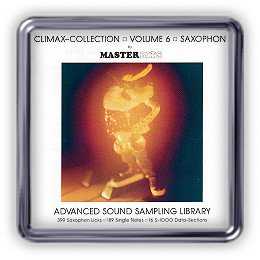 Team EtHnO | 02.11.2004| 319.40 MB
The world's first selection of saxophone recordings features 399 licks performed professionally on Alto, Tenor, Baritone and Soprano saxes.
They are organized by instrument, key and tempo. 189 multisamples of the saxes with different articulations are also provided. The CD is fully indexed for easy access and for Akai users with a digital I/O we include a bonus set with 16 pre-mapped volumes - ready to play.
"Here is the latest release in the Climax series that concentrates on acoustic instruments. With the same high quality as the Climax Violins, this is a quality library of saxophone licks and single samples, all recorded in stereo with a professional amount of room ambience.
We really liked the licks - they burn and groove with a natural feel, and the quality of sound is 'expensive'. All of the color and feeling of a real performance have been meticulously captured. The single samples are also first class with percussive sounds and with the use of different mouth techniques." - Keys