Zero-G Akoustik Bass Hitz WAV REX2 KONTAKT DVDR-DYNAMiCS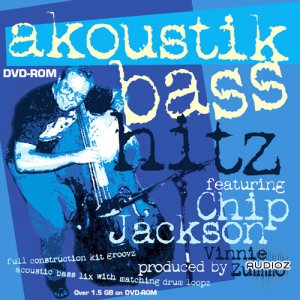 Team DYNAMiCS | 09.22.05 | 1.27 GB
AKOUSTIK BASS HITZ. Chip Jackson is a world class acoustic bass player who has worked with everyone from Elvin Jones, Horace Silver & Wynton Marsalis in the jazz world, to Natalie Merchant in the pop realm. Together with Vinnie Zummo, producer of the award winning New York Cutz series of sample CDs, Zero-G bring you this slammin' taste of NYC-style sweaty, fonky–ass, acoustic bass & drum loopz.
This is not your average acoustic bass sample collection! In addition to the Jazz tip that Chip is famous for, there are around 500 individual bass lix and full band construction kits on this DVD, in every style imaginable, including: Retro Lounge, Hip Hop, Latin, 60's English, Rock-a-Billy, Dance, Zydeco, Acid Jazz, Fast Jazz, Abstract Jazz, Swing, Folk, Heavy Metal (these metal tracks will make your speakers rumble!), Reggae, Ska, Wa lix, Bow & Voice lix, Acoustik Fuzz Bass, Atmospherics and on & on….
The over 100 matching drum loopz programmed or played by Vinnie Zummo, cover the same range and beyond. The live drum loops feature 2 or 3 separate fills as well to make it easy to program your own music. There are also plenty of guitar, rhodes, organ tracks, & even some banjo, dobro, & mandolins within the construction kitz to make this CD a slammin' bargain.. Instruments are offered solo-ed as well and in 6 to 12 keys wherever possible. Make your tracks growl & snort with some authentic New York attitude!
While planning this project, Chip and Vinnie included as many acoustic bass styles as possible since the currently available acoustic bass sample CDs were very limited in the range of musical idioms offered. The more commonly used styles (Jazz, acid jazz, hip hop, etc…) are provided in 12 keys and most others in 6 keys. (Most users have DAWs that employ time compression and pitch change that can change 6 keys into 12.) Throughout the project, the major priority was to capture Chip's raw, live, New York energy and combine it with some useful drum loops made in the "New York Cutz" style as well as some live drums and retro grooves.
The emphasis was TOTALLY on making tracks that feel great as opposed to technically perfect bass licks. Some of the licks were taken from live concert tapes as well in an effort to bring you the "sweaty live grooves" factor.
Features:
- 38 Construction Kits in Native Instruments KONTAKT, REX and WAV formats
- Over 1.5 GB on DVD-ROM
- Includes: 893 REX2 loops, 957 WAV files