ElectroniSounds Downtempo Spirals ACID/WAV/REX/SOUNDFONT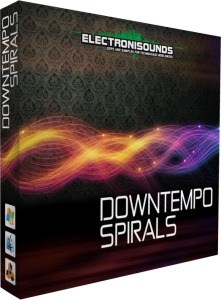 • ACID/WAV • REX • SOUNDFONT | 2.60GB
'Downtempo Spirals' brings you over 3000 samples, from five producers, in over 2.6GB of content. This truly awesome pack, while aimed at downtempo producers, is packed with enough extra content (included REX and SF2) to allow it to adapt to a range of tempos and contexts.

We've been hard at work creating this amazing new collection of over 3,000 samples that are essential for any producer who likes to make slower-tempo music. If you like your BPM dial at 100BPM and under, you'll flip for this all-new sample library! 'Downtempo Spirals' has everything you need to create a vast array of musical genres - beats, musical loops and phrases, FX, groove kits, one-shots, chords, soundfonts, multi-samples; it's all here.

Five producers helped create this project -- meaning you really get a nice assortment of styles and production techniques. Imagine having the work of FIVE seasoned producers at your fingertips.

The Concept Behind Downtempo Spirals:

This project was of course created with slower tempo music in mind. But we're not talking about mellow, laid-back samples only - we've got some really hard-hitting sounds and grooves as well. The only limit for this sample collection was to keep the BPM at 100 or under. We all went pretty crazy creating the loops and sounds for 'Downtempo Spirals', and it really shows.

You'll find some of the most unique and useable samples you've ever heard in this download. JTEKK put his unique spin on some really phat hip hop grooves that are sure to spin some heads! Rhythm Lab produced some of the thickest beats we've ever released! Many of the loops here are provided in .RX2 format as well as .WAV format, meaning you can use them at tempos much higher than 100BPM for maximum versatility in your own original music.

This is really a must-have sample-pack for any producer who likes to keep it on the slow tip. Dig into 195 folders of well-categorized samples: over 3,000 samples in all!

Sounds:

The synth, bass, exotic, FX and pad sounds featured here were all created exclusively for this collection and are made from hardware and software synths as well as real sampled instruments. We've done lots of programming, layering, filtering and processing to give you the freshest and most original new sounds for your productions. You can use these one-shots to write your own riffs and melodies.

These are some of the most unique sounds we have ever produced! Many of the "JUNEBUG" sounds are looped as well, meaning you can hold the sound for as long as you want without the sample ending. These "looped" sounds are labeled and easy to find. There are more individual "sounds" than "loops" on this collection, meaning you can easily find the right sound to suit the needs of the track you are working on.

We've included all the sounds you could possibly want including folders of basses, bendy leadz, chords, DJ FX and scratches, drum sounds, exotic sounds, FX, guitar chords, horns, Lo-Fi one-shots, multi-samples, organs, pads, textures, pianos, electric pianos, plucks, strings and synths.

All individual sound samples (with the exception of chords) are tuned to "C" for easy use. Over 800 melodic "one-shots" are included. You will keep coming back to these sounds again and again.




Chords:



The chords here are perfect for use in any trip-hop, NiouJazz, NiouKool, acid-jazz, dub or downtempo track! You get minor chords, augmented, suspended, diminished, fifths, ninths, etc. These chords were made from hardware and software synths, with lots of variation and layering. All chords are labeled - so no guesswork when trying to match them up to your original music!

Use them as stabs, pads, or texture beds to layer into your productions, drop one in over your break(s), etc. Utilize your sampler's LFO to filter on these chords to really bring some life and variation to them.



Drumloops:



The drumloops here are super-phunky, staggered, jumpy and flowing. Very vibrant beats and lots of variety of sounds. Hip-hop, trip-hop, ambient, illbient, chill-out and downtempo producers will love these beats!! These drumloops have been heavily processed and maximized to deliver extra "punch" to your tracks!! You get every drumloop in .WAV format, and any drumloops that could be REX'd have been, so you get almost all of the drumloops in .RX2 format as well, allowing you to easily use them in tracks of just about ANY tempo!

All of Rhythm Lab's drumloops are also provided in individual slice format, meaning you pretty much get an endless array of individual drum one-shots to program your own beats and breaks with.



Drum Sounds:



You get some sweet drum kits from JUNEBUG here, including: Deep Space Drums, Downtempo Spirals Drums, three trip-hop drum kits, Junebug's Tambourine samples, Mouth Percussion, Skratcher Percussion and Da Dark Side Drums!! Over 300 individual drum samples.



Groove Kits:



We've got some new groove kits from JUNEBUG and Rhythm Lab! Dig into these new "groove kits" to help get you started making your own tracks or just to get some inspiration flowing. Junebug teamed up with guitarist Tony Galasso on many of his kits to create some seriously unique samples for you to play with! Tony is a very creative guitarist and his playing brings an entirely new dimension to these grooves.

There is much variation of style here, and all the guitar samples are provided dry and processed to give you maximum flexibility when programming your music. You can easily turn any one of these kits into an original track of your own. You can also use these samples to embellish existing tracks you've already written which might be of a similar tempo.

We've given you plenty of loops and one-shots here, so you can program your own unique melodies, breaks, intros and turn-arounds with ease! All of the Rhythm Lab kits are provided in .WAV AND .RX2 format!



FX:



There are seriously spaced-out, whacked-out FX here!! Swirls and swishes, blasts and drones: it's all new and it's only in Downtempo Spirals! All of the FX are tuned to "C" as well, making them very easy to use in your original music, no matter what key you're writing in!



Miscellaneous Musical Loops:



All of the misc. musical loops are given in .WAV AND .RX2 format. This means you can use them in tracks of just about any tempo you like. These melodic loops will help you build new songs quickly and easily.



Soundfonts:



We've created some really sweet and all-exclusive soundfonts for this collection. Load these up into your favorite virtual sampler and enjoy the lushness! We went all-out on these long and evolving presets, with some soundfonts containing over 50MB of samples! Muzik Professor programmed 2, and the rest are from Junebug.



Soundfonts Patches include:



• Bright EP
• Classic FM Strings
• Late Night Dubbin'
• Love Them Fifths
• Melancholy Rez Pad
• Sweetest Filter Pad
• Thick Majestic Pad
• Venus Marsh Pad

These soundfonts contain many multi-samples to provide you with the richest sound possible.

Enjoy, and keep it funky!

- JUNEBUG



Bonus Content:



We've hooked you up with BONUS SAMPLES from FIVE of our other releases. These samples greatly round-out the sounds on 'Downtempo Spirals:

• Beyond Gravity Drumkit
• 4 Groove-A-Liptic Inspiration Kits
• Mello Synthetic - Vocoded Beats
• Supreme Sounds - Vinyl Stuff
• Trip Hop Explosion - Rhodes Loops

We've also included demo samples from 10 of our other releases that are great partners to 'Downtempo Spirals'.
ElectroniSounds - Downtempo Spirals Demo 1 ElectroniSounds - Downtempo Spirals Demo 2 ElectroniSounds - Downtempo Spirals Demo 3 ElectroniSounds - Downtempo Spirals Demo 4 ElectroniSounds - Downtempo Spirals Demo 5 ElectroniSounds - Downtempo Spirals Demo 6
Reuploaded. PiRAT