ModeAudio Amplify Driven Drum Samples WAV-FLARE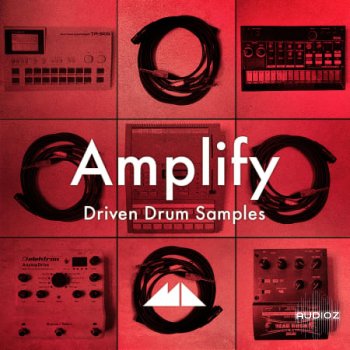 Flare | 16 September 2020 | 33 MB
'Amplify - Driven Drum Samples' from ModeAudio sits before you like a wall of blinking guitar amps on stage, cloaked in shadow and waiting for you to plug in and send the show roaring into life!
A gritty, powerful celebration of the noisy joy of amplified sound, this royalty-free collection of 381 thundering drum samples is what happens when you plug a set of vintage drum machines into a 65W Roland amp and let loose with the gain-stage.
From the classic punch and low-end shake of the legendary 505, 808 and 909, to the vibrant acoustic sampling of the Alesis HR16 and modern snap of Korg's Volca Beats, we've driven our favourite rhythm units hard through pedals and amps, recording the results rich in overtones and shrieking with transient attack.
The selection encompasses booming kicks, razor-sharp snares, fizzling cymbals, quaking toms, crunchy claps, shimmering hi hats and so much more, representing a dazzling array of overwhelmingly punchy drum machine options of both the cleaner and noisier varieties.
Contains:
· 37 Echo Drums
· 45 Layered Drums
· 29 Space Drums
· 15 Claps
· 21 Cymbals
· 48 HiHats
· 53 Kicks
· 67 Percussion
· 37 Snares
· 29 Toms