Sample Magic SM101 MIDI Elements: Sleazy Drum Kits MULTiFORMAT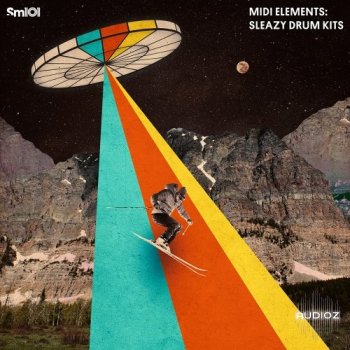 MULTiFORMAT | 317.21 MB
MIDI Elements: Sleazy Drum Kits brings together a collection of carefully crafted drum hits and MIDI across ten kits (including Ableton Drum Racks, Battery, EXS24, Kong, and Maschine). Program authentic hard-knocking beats, MPC influenced swing and hazy hip-hop grooves.
Meticulously mapped to GM standard, expect the perfect selection of lo-slung drums inspired by the LA Beat Scene.
As a bonus, we have also included a total of 120 extra original drum hits, 50 drum loops and 10 percussion loops.
SLEAZY DRUM KITS RACKS FOR ABLETON LIVE
A one-stop shop for intricate beat making...
The Sleazy Drum Kits feature everything you need to start crafting top quality beats immediately. Quickly create an intricate and perfectly processed drum mix. Once you have found your starting point, tailor your sound using unique and complex effects and sampler processing including:


Editing Tools:
Transpose > Perfectly tune your sample with our +/- 4 octave tranpose knob.
Volume > Strike the perfect balance with our +/- 36 db volume control.
Filter Freq > Craft away high end with our clean 4 pole low pass filter.
Filter Res > Add a touch of bite or destroy your sound with resonance.
ADSR > Take charge of your transients with the Attack, Decay, Sustain and Release controls.
Processing Tools:
Transient Shaper > Add more transient punch to your drum mix.
Compressor > Add slight compression to your drum mix
Drive > Add some overdrive and warm up your low mids.
Lo-Fi > Recreate the gritty character of the old sough after samplers.
Vinyl Crackle > Add a bit of vinyl noise and crackle.
HPF > A sample hi-pass filter
LPF > A simple lo-pass filter
Limiter > Keep your kit under control with our standard limiter.
Contains:
359 x 24-bit wav files
101 x MIDI Files
10 x Ableton Drum Racks
10 x Battery 4 Kits
10 x EXS24 Kits
10 x Kong Kits
10 x Maschine Kits
5 Sampler Formats for Kontakt, NN-XT, EXS24 and Ableton Drum Rack
**Please note: Ableton Live 9.7.5 or later is required to run the drum racks. These racks are also forward compatible with Ableton Live 10.
Melodic and non-drum sounds heard in the demo are taken from Sleazy Beats.
Reuploaded. PiRAT