Studio Wormbone Algo-Rhythms Mutated Drum Loops WAV AiFF REX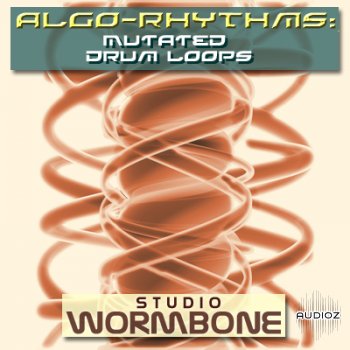 WAV AiFF REX | 348.00 MB
Welcome to 'Algo-Rhythms: Mutated Drum Loops' from Studio Wormbone. This assortment of sounds will soon add a whole new depth of style to the flow of your music – a style both uncommon and courageous.
Re-align your mindset to a new rhythmic paradigm. Music's foundation has now been reshaped, redeveloped, reborn. It's a wild and vivid emergence, and it's all yours with Studio Wormbone's Mutated Drum Loops...
Mutated Drum Loops is an anomaly. This group of 100 samples takes the idea of your standard loop and transmogrifies it into a form factor like no other. What would a backward disco beat sound like if it were dipped in nuclear liquid?
How about some analog modulated four-on-the-floor segments genetically modified beyond recognition? Or perhaps a few measures of a sedate downtempo groove hammered with a glitch machine?
The bad news is, when you use this sound pack there's no going back to making predictable tracks. The good news is, the fallout from this accumulation of loops ensures that your music will never be 'normal' again.
Sound Categories:
The included folders are categorized into clean, dirty, downtempo, uptempo, and technological drum loops, in a variety of tempos and mostly in 4/4 meter. This sound pack is ideal for any genre of techno/electro or film/TV/game soundtracks in need of unbelievably fresh layers of musicality.
Formats:
• Apple Loops/Aiff
• REX/RMX
• WAV
Formats provided are WAV/AIF/REX2 in 24Bit/44.1khz resolution, and are of course Royalty-Free. Every sample has been professionally recorded, edited, and mastered with the utmost care, is usable with every major audio software program (Pro Tools, Logic, Cubase, Sonar, FL Studio, Acid, Garageband, Ableton Live) and is compatible cross platform with either Mac or PC.