REQ: Jim Daneker DX Dreams for Kontakt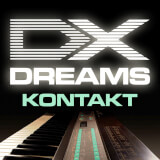 DX Dreams starts with meticulously deep-sampled sounds recorded in stereo (when applicable) from as many as eleven DX7s all playing at once, and all recorded through iconic 80s hardware: 1073-style preamps, various analog tape models, Roland Dimension D chorus, and AMS or Lexicon reverbs.
So, while other virtual DX instruments give you a single DX7, a single DX Dreams patch can give you big, layered, fully produced sounds that would be impossible without stacks of real DX synths processed through iconic hardware that helped make some of the biggest hits in music history.
DX Dreams gives you access to those sounds the way they were meant to be heard, but it can also can form the foundation of new, forward-thinking sounds nobody has heard yet. For the first time since the 80s, you can now play the sounds that defined a generation, as we heard them.
- Over 30 GB of meticulously sampled content
- Stunning production-ready sounds sampled through the hit-making hardware of the DX era
- Built from the ground up for uncompromising performance in a live setting
- Layered Combination Patches
- Famous "Icons" Patches