the Day We Fight Back Against Mass Surveillance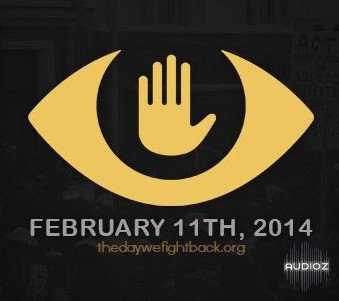 The Day We Fight Back is an ongoing global protest against mass surveillance by the US National Security Agency (NSA), the UK GCHQ, and the other Five Eyes partners involved in global surveillance. The "digital protest" took place on February 11, 2014 with more than 6,000 participating websites which primarily took the form of webpage banner-advertisements that read, "Dear Internet, we're sick of complaining about the NSA. We want new laws that curtail online surveillance. Today we fight back."[8] Organizers hoped lawmakers would be made aware "that there's going to be ongoing public pressure until these reforms are instituted."
The protest was announced on January 10, 2014 by the Internet activism group Demand Progress. Other early organizers included digital rights groups such as the Electronic Frontier Foundation (EFF), Fight for the Future, and Free Press, as well as social media website Reddit, Firefox producer Mozilla, collaborative blogging website Boing Boing, and populist advocacy group '"The Other 98%".
Support This
Discuss at our Forum