Udemy Vocal Recording: A Complete Production Guide TUTORiAL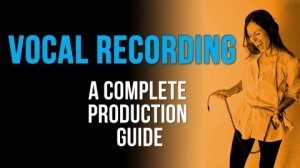 SYNTHiC4TE | Nov 23 2014 | 643.2 MB
Today, many musicians are wearing multiple hats, including engineer & artist. Unlike most audio courses you'll find, "Vocal Recording: A Complete Production Guide" goes beyond simple tips to bring you through the entire process of creating hit-sounding vocals, from prepping the session & performing, to setting up a great mix session & mixing the vocals into the track. By hearing techniques from both the singer & engineer's point of view, you'll be able to create your own hit tracks within hours!
"Vocal Recording: A Complete Production Guide" is for anyone who is an artist looking to hone their engineering and recording skills. It's for engineers who would like to improve on their studio techniques and developing a productive relationship with performing clients. It's for any singers who want to feel more comfortable in the studio. Lastly, it's for anyone who is interested in capturing the true nature of the song they wrote and presenting it in the best light possible.
This course will take you under 2 hours. Each chapter includes an in-depth discussion and how-to, focusing on one of the 8 steps in recording hit-sounding vocals. In addition, each chapter comes with a summary video for reference in addition to a PDF summary for your convenience.
download from free file storage