Homespun Pete Huttlinger Learn To Play The Songs Of John Denver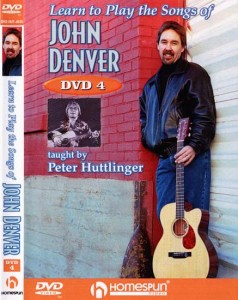 Homespun Pete Huttlinger Learn To Play The Songs Of John Denver TUTORiAL DVDx4
Publisher: Homespun | Language: English | 5h54m | Full Scans | 3.85GB+3.63GB+3.89GB+3.83GB | VIDEO_TS/PDF | ISBN: 0634053442
MPG2, 6000.0kbps | 720×480, 30.0fps | AC-3, 192.0kbps | 48.0kHz 16bit, 2 channels
John Denver was one of the most beloved figures in the history of American popular music. Pete Huttlinger was John's lead guitarist from 1994 until his tragic death in 1997, accompanying him on world tours, Grammy-winning recordings and TV specials. On this instructional video and DVD, Pete breaks down John Denver hits, teaching the easy but effective chord progressions, picking patterns and bass runs that made his arrangements so compelling.
Pete uses his musical knowledge, teaching expertise and "insider's" insights as John's lead guitarist to help you learn each arrangement in note-for-note detail. He shows you the chord shapes, bass walk-ups, dropped D tuning, licks and solos in both fingerpicking and flatpicking styles that John used to make each piece unique.
DVD1
: While the lesson is accessible to most novice players (and several of these songs can be played even by near-beginners) by the end of the DVD you'll find yourself solidly in intermediate guitar territory. Throughout the lesson, Pete's clear explanations make it easy to completely understand what you need to do to achieve John Denver's trademark sound and use it as a springboard for your own songs and arrangements.
The techniques taught on this DVD range from very simple accompaniments using basic folk strums to Travis-style picking patterns and syncopated melody lines against a steady bass. You'll learn chord positions and harmonies that evoke a sound typical of John's music.
Songs include in DVD1:
My Sweet Lady
I'm Sorry
Annie's Song
Late Winter Early Spring (instrumental)
Fly Away
Boy from the Country
Darcy Farrow
Rocky Mountain High
DVD2
: A relative beginner will have no trouble playing these songs, but there is much to challenge intermediate players as well. The techniques range from basic chords and folk strums to more complex picking patterns, chord progressions and harmonies that evoke a sound typical of John's music.
The songs Pete teaches were chosen in response to the many requests he received from John Denver fans who enjoyed his first DVD and wanted more. They include Aspen Glow, Christmas for Cowboys, This Old Guitar, I Guess He'd Rather Be In Colorado, Rhymes and Reasons and John's signature song, Take Me Home, Country Roads. Each of these is immediately identifiable with John Denver and is great fun to play. Pete gets out his Taylor 12-string for an authentic rendering of John's version of the Lennon/McCartney song Mother Nature's Son, which he plays in dropped D tuning with a flatpick. Pete rounds out the DVD with a series of exercises to help you build dexterity, strength and coordination in your guitar playing.
Pete brings joy and enthusiasm to his subject matter. His exploration of John Denver's music will teach you to play wonderful songs with beautiful arrangements while helping you bring your guitar playing to a whole new level.
Songs include in DVD2:
Aspen Glow
Christmas for Cowboys
This Old Guitar
I Guess He'd Rather Be In Colorado
Mother Nature's Son
Rhymes and Reasons
Take Me Home, Country Roads.
DVD3
: For this lesson, Pete has selected seven of the John Denver guitar arrangements most requested by fans of his previous DVDs. He teaches the arpeggiated intro and rich chords of Calypso; the powerful strumming patterns of Spirit and The Eagle and the Hawk; the flatpicking riffs and bass lines to Matthew; the intro and fingerpicking patterns to Dreamland Express and Poems, Prayers and Promises; and the classical-sounding accompaniment to Today.
Throughout the lesson you'll gain many insights into the musical mind of John Denver, as well as the special sounds and compelling voicings that make these guitar arrangements simple to play and yet uniquely beautiful. Complete your collection of these popular DVDs and have fun playing this timeless music.
Songs include in DVD3:
Calypso
Spirit
The Eagle and the Hawk
Matthew
Dreamland Express
Poems, Prayers and Promises
Today
DVD4
: This fourth lesson in Pete's series answers the call of the many players who have loved his other explorations of John Denver songs and guitar techniques. The material ranges from very easy, for near-beginners, to some that will challenge intermediate-level players.
Songs include in DVD4:
Back Home Again
Song of Wyoming
Eclipse
Leaving on a Jet Plane
Wind Song
Ponies
Thank God I'm a Country Boy
Tools
I'm Sorry
The guitar solo for - I Guess He'd Rather Be in Colorado.