The Audio Masterclass: Music Production and Sound Engineering Course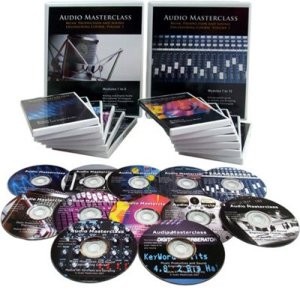 The Audio Masterclass: Music Production and Sound Engineering Course
2010 | Audio Masterclass | PDF, MPEG-4 Movie, WAV | 7.35 GB
Firstly, let's be clear that this course, unlike others, is not all theory. The course is about listening to our audio examples, learning what makes a good recording, understanding how things can go wrong, then making your own recordings and having the option of getting them listened to and commented by us.
But you do need to understand what's behind the sounds that you will hear and create. And that's where you need the 600+page online Course Manual.
We have included everything you need to know, and we've left out anything you don't need to know. Music Production and Sound Engineering are exciting things to do. Our 600+page online Course Manual will help you learn in an exciting way.
You can complete your entire course in as little as twelve weeks. Or you can spread your course out over as long as two years if you wish. Learning Music Production and Sound Engineering by distance learning is totally flexible in this way.
Many of our students like to download and print the course manual, normally in two volumes. The course includes downloadable artwork.
Next, let us tell you about the Audio Examples in the twelve modules of the course...
All of the audio material is delivered to you online to load into your digital audio workstation (you can use a software or hardware workstation).
Each module contains not only Audio Example Files demonstrating the material covered in the online Course Manual, but also audio material demonstrating the Practical Assignment Project for that module. You get to hear work done to a professional studio standard, and also some less-than-perfect recordings so that we can show you how things can easily go wrong, and explain how to avoid these problems.
It not DVD video, is full interactive DVD which contains.
All present modules accessible in a mode online. A course on sound processing, mix, compressions, a sound recording. Technics of microphonic record. Synthesis and sampling. Effects and plug-ins, a musical software. Data of ready compositions. Even there are theoretical materials on analog and digital signals.
12 Modules:
Module 01 Analog and Digital Audio
Module 02 Microphones
Module 03 Microphone Preamplifiers
Module 04 Equalization
Module 05 Compression
Module 06 Recording Software
Module 07 Effects and Plugins
Module 08 Synthesis and Sampling
Module 09 Recording Techniques
Module 10 Mixing
Module 11 Mastering
Module 12 Marketing Your Music and Recording Services
Formats:
Video - MPEG-4 Movie, 960x540 25.00fps, AAC 44100 Hz, stereo 1411kbps
Audio 1 - WAV, 24 bit/48kHz, 1152 kbps
Audio 2 - MPEG 4, Apple AAC codec, M4a 130 kbps, 44100kHz stereo
The additional information:
Course for sound producers of interested persons considerably to raise the level.
Differs from all previous versions:
All possible audio files instead of AAC has a format 48kHz/24Bit for the work first-rate quality, also video now in HDRip quality. The written information not in HTML, now they in.pdf a format that is much more convenient.
It at present one of the best training courses!
Now all fixed. New links. New archives