The Recording Revolution REthink Mixing TUTORiAL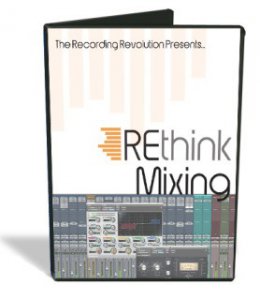 SYNTHiC4TE | June 13 2012 | 2.33 GB
Looking for the ultimate mixing video series? You just found it people. Today I am launching my most comprehensive tutorial product to date, and it has one simple goal: to get you mixing like a pro! Welcome to what you've been missing. Welcome to REthink Mixing.
Let Me Be Your Mixing Mentor
The absolute best way to learn how to mix is simply to sit down with someone who knows what they are doing and watch them do it. Nothing will improve your mixes faster or more dramatically than by watching a mix come together before your eyes from start to finish.
This is why I've created REthink Mixing, to show you exactly how I mix a song from raw tracks to polished master, all without missing a single detail. In REthink Mixing, I show you exactly what it takes to put together a pro sounding mix.
Real Mixing Training For Real People
REthink Mixing is the ultimate mixing tutorial for real home and project studio owners like you. Why? Because you get to watch me mix tracks that were recorded with home studio equipment in some guy's basement. Not a slick basement studio, just your regular old basement!
Over the course of 8 in-depth videos, you'll watch as we transform these raw (and in some cases rough) tracks into a punchy, clear, and professional sounding mix that you can be proud of. I literally mix the entire song in front of your eyes, with no further tweaking happening in between videos or behind the scenes. Nothing is held back as I invite you into my personal mixing workflow!
Reuploaded. PiRAT