PUREMIX Matt Ross-Spang Episode 5 Recording That's Love TUTORiAL-SYNTHiC4TE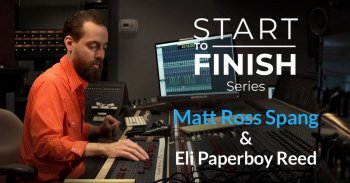 SYNTHiC4TE | July 31 2020 | 383 MB
One song down, one to go!
Now that the band has wrapped up "Anytime You Want Me" and grabbed some famous Memphis Barbecue from The Cozy Corner, it's time to get back to work and record the second song, "That's Love".
In this episode, you'll watch as Matt and the band:
Work out the arrangement and rehearse "That's Love"
Adjust the tone of the snare to fit the vibe of the song
Get some extra grit out of the guitar amp
Push the Spectra mic pres to saturate and soak up the transients
Overdub percussion
Join Matt Ross-Spang, Eli "Paperboy" Reed, The Hodges Brothers, Ken Coomer, and The Masqueraders inside the legendary Sam Phillips Recording in Memphis, TN for an incredible recording event, from Start To Finish.