Udemy - Piano: The Chord Based System - Learn To Play As The Pros Do TUTORiAL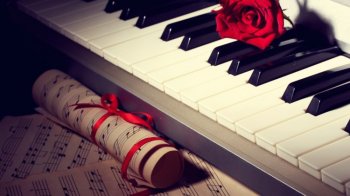 P2P 25 Dec 2015 | 1.62 GB
Learn to play piano using beautiful-sounding, embellished chords. Quick & easy from a pro with 40+ years entertaining.
This course is designed to teach you to play piano using chords, even if you can't read music. I show you exactly how professional piano players do it; why they don't bother with reading sheet music, and yet are able to play any song easily and quickly, sounding as if they have practiced the song for weeks.
See the simple tricks that I have used to earn a living as a full-time pianist and keyboardist for the past 40+ years.
Master chord-based Popular Style Piano in a matter of hours
Whether you want to play just for fun, play for friends, at parties, or make money playing music, this course will show you how to do it. You will:
Learn to use the piano as an accompaniment instrument
Learn how to build major chords easily in any key
Learn how to create a minor or dominant 7th chord
Learn augmented, diminished, suspended and major 7th chords
Learn how to play easily with both hands
Find out how to read chords from sheet music without reading the notes
Learn in two hours what takes years for most
Discover the secrets to turn simple, basic chords into beautiful, full-sounding Jazz, Rock, and Gospel chords.
Learn quickly and efficiently how to sound skilled on the piano
If you want to make beautiful music on the piano without years of grueling, expensive lessons, this is the course you want.
I do not teach note-reading in this course. If your goal is to play Beethoven, Bach, or other classical music, this course is not for you. It is a course in popular piano playing.
I spent years taking weekly lessons as a child, studying music in school and college – but when I became a full-time, professional piano player 45 years ago, I discovered that most of what I learned did not apply to what I was trying to do. I wanted to play popular music in night clubs, cabarets, casinos and show rooms. I learned more from working with other professional musicians than I ever did from teachers, either privately or in school.
What I show you in this course are the things that I learned to make music easy, effective and fun. It's how the pros play.
In addition, you have an unconditional,no questions asked, 30 day, money-back guarantee. Nothing at risk!
download from free file storage