Topics Jamplay Learn to Play Electric Guitar TUTORiAL DVDrip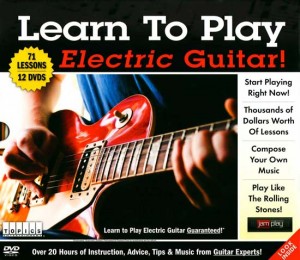 DVDrip | 4.83 GB
Do you dream about learning to play the guitar? Well, stop dreaming and start playing! More than 71 fun, interactive and easy lessons in Learn to Play: Electric Guitar teach you what you need to know to get you playing immediately.
With more than 80 years of combined guitar experience, Chris Liepe, Kenny Blue Ray and Brendan Burns will have you playing and sounding like a pro in no time with their proven teaching styles in this exclusive 12-DVD set. Instructors teach via short filmed segments so learning is easy! Students choose when they want to learn and how quickly.
Learn with lessons on:
FIRST CHORDS TABLATURE - CHORDAL EMBELLISHMENTS STRUM PATTERNS SCALES TIME SIGNATURES INTERVALS CHORD CHARTS TRIADS EFFECTS PEDAL MUSICAL NOTATION BARRE CHORDS PALM MUTING LEGATO PLAYING HYBRID PICKING CAGED SYSTEM KEITH RICHARDS S GUITAR SOUND LEAD IDEAS ANTICIPATIONS BENDING CONCEPTS ROCK ESSENTIALS PENTATONIC SCALES CHORD NUMBERING SWEEP PICKING MODES IMPLIED TONALITIES MELODIC DEVELOPMENT SOLO TECHNIQUES TWO-HAND TAPPING TURNAROUNDS TENSION NOTES BLUES BASED RHYTHMS JIMI HENDRIX STYLE CHORDS 8 BAR BLUES
71 easy-to-follow lessons on films; includes printable materials to accompany sessions
80+ years of combined guitar experience from instructors
20 hours of instruction -- thousands in savings on music lessons!
Instructors have played with well-known musicians and bands, including Stevie Ray Vaughan, Charlie Musselwhite, Tommy Castro, Landon Pigg, Jars of Clay and Mercy Me
Lessons include:
First Chords Tablature
Chordal Embellishments
Strum Patterns
Scales
Time Signatures
Intervals
Chord Charts
Triads
Effects Pedal
Musical Notation
Barre Chords
Palm Muting
Legato Playing
Hybrid Picking
Caged System
Keith Richards Style
Bending Concepts
Rock Essentials
Solo Techniques
Jimi Hendrix Style
8 Bar Blues
And More!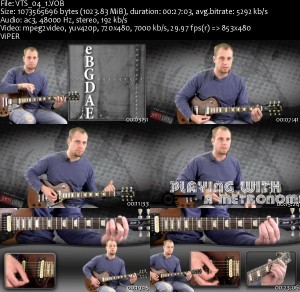 Reuploaded. PiRAT