The Hymn Fake Book: A Collection of Over 1000 Multi-Denominational Hymns, Melody, Lyrics, Chords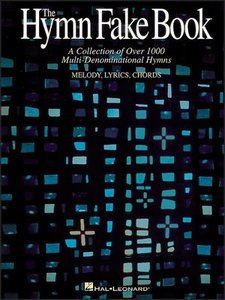 2000 | Hal Leonard Publishing | ISBN: 0634010433 9780634010439 | 517 pages | PDF | 21 MB
This is one of the largest, if not the largest, comprehensive collections of hymns ever assembled. It contains a huge variety of cross-denominational hymns, spanning several centuries. The Hymn Fake Book is an excellent resource for worship teams & worship leaders who desire to use hymns in their services, but have difficulty reading a standard hymnal's 4-part harmony.
In this book editors have made every effort to retain the original texts whenever possible. They have also attempted to include most, if not all, of the original verses, generally up to six. The chord symbols allow players to harmonize their own arrangements, while preserving the authentic chord progressions. For those who are unfamiliar with this format, a "fake book" attempts to provide a shorthand version of all essential elements: melody, lyrics and chords. In other words, "faking it."
Contemporary worship teams will especially appreciate the lead sheet feel of this book (melody line with chord symbols), and classic worshipers will appreciate the true hymnal sound which is captured in these arrangements. These are not contemporary arrangements, but a "lead sheet" approach to the classic hymns. Hymns from different denominations along with 10-15 Christmas carols. Excellent resource!
The book is easy to use and well laid out. Chords are very good and have had no difficulty transposing them to the same key as the organist plays and playing along (this is not always as straigforward as it sounds as some of the chords you get off the free sites just don't sit well with someone playing from the music).