Best of Jazz Guitar (Signature Licks) by Wolf Marshall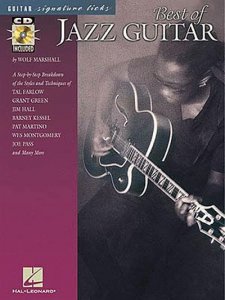 2000 | Hal Leonard | English | ISBN: 0634022660 | 160 pages | PDF | 40 MB
(Signature Licks Guitar). Explore the music of the world's greatest jazz guitarists! In this book, Wolf Marshall provides a hands-on analysis of 10 of the most frequently played tunes in the jazz genre, as played by the leading guitarists of all time.
Features:
* "St. Thomas" performed by Jim Hall, Tal Farlow and Kenny Burrell
* "All Blues" performed by George Benson, Kenny Burrell and Pat Martino
* "Satin Doll" performed by Howard Roberts and Joe Pass
* "I'll Remember April" performed by Johnny Smith and Grant Green
* and more!
Each selection includes technical analysis and performance notes, biographical sketches, and authentic matching audio with backing tracks. "This is a wonderful undertaking a good selection of music well-played. To hear and study all the jazz guitar greats of yesterday and today like this will be of immense value to all players." Herb Ellis