Beyond the Aria: Artistic Self-Empowerment for the Classical Singer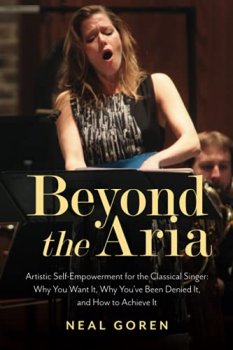 2020 | ISBN: 1538137933 | English | 210 pages | EPUB | 1 MB
It is no secret that the opera industry is contracting and that there are fewer professional opportunities. But what causes one singer to be in demand over another is not exclusively a special instrument or exceptional vocal technique-rather, the ability to interpret the music and portray character convincingly plays an increasingly vital role in today's opera industry.
Beyond the Aria: Artistic Self-Empowerment for the Classical Singer provides singers with the tools to develop an inquisitive and analytical mindset about the artistic details found in scores. Neal Goren takes singers through a careful reading of clues provided by the librettist and composer, informed by performance practice, and empowers singers to make their own valid artistic choices. Sample analyses of six standard arias and songs are provided as a guide of characterization.
Chapters also address artistic collaboration and audition strategies. Also included are exclusive interviews with eight great singing actors of the twentieth and twenty-first centuries, including Jonas Kaufmann, Christa Ludwig, Audra McDonald, and Barbara Hannigan, who share their individual methods for constructing a character.