Making It Up Together: The Art of Collective Improvisation in Balinese Music and Beyond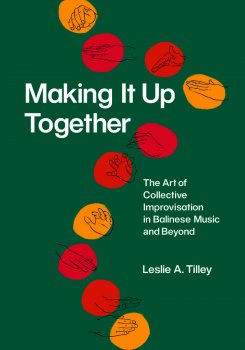 English | ISBN: 022666113X | 2020 | 336 pages | PDF | 22 MB
Most studies of musical improvisation focus on individual musicians. But that is not the whole story. From jazz to flamenco, Shona mbira to Javanese gamelan, improvised practices thrive on group creativity, relying on the close interaction of multiple simultaneously improvising performers. In Making It Up Together, Leslie A. Tilley explores the practice of collective musical improvisation cross-culturally, making a case for placing collectivity at the center of improvisation discourse and advocating ethnographically informed music analysis as a powerful tool for investigating improvisational processes.
Through two contrasting Balinese case studies—of the reyong gong chime's melodic norot practice and the interlocking drumming tradition kendang arja—Tilley proposes and tests analytical frameworks for examining collectively improvised performance. At the micro-level, Tilley's analyses offer insight into the note-by-note decisions of improvising performers; at the macro-level, they illuminate larger musical, discursive, structural, and cultural factors shaping those decisions. This multi-tiered inquiry reveals that unpacking how performers play and imagine as a collective is crucial to understanding improvisation and demonstrates how music analysis can elucidate these complex musical and interactional relationships.
Highlighting connections with diverse genres from various music cultures, Tilley's examinations of collective improvisation also suggest rich potential for cross-genre exploration. The surrounding discussions point to larger theories of communication and interaction, creativity and cognition that will be of interest to a range of readers—from ethnomusicologists and music theorists to cognitive psychologists, jazz studies scholars, and improvising performers. Setting new parameters for the study of improvisation, Making It Up Together opens up fresh possibilities for understanding the creative process, in music and beyond.