The Ultimate Popular Music Quiz Book - 1954 to 2020: An Exciting Journey Through Pop Music History!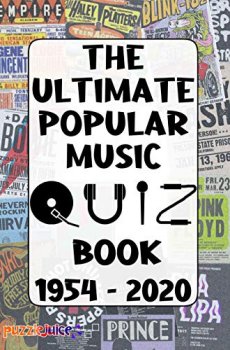 English | 2020 | ISBN: N/A | ASIN: B08HT86ZTC | 149 pages | EPUB | 15 MB
Welcome to The Ultimate Popular Music Quiz Book. A quiz that takes you on an exciting journey through Modern Pop Music History, from the birth of Rock n' Roll in 1954 all the way through to 2020 - from Elvis Presley and Chuck Berry to Billie Eilish and Dua Lipa!
A quiz to bring all the family together! If you love Pop Music then children, parents and grandparents (and even great-grandparents!) can all join in the challenge to complete the quiz.
This is a hard and challenging quiz that's sure to create a lot of debate and discussions to reach the correct answers! Luckily, all the answers are in the back of the book, but there're no multiple choice questions, you need to know your stuff or know someone who can help!
Full of Pop music trivia, you're also sure to learn many new Pop Music facts to amaze your friends and family!
The USA and UK have lead the World in Popular music for over six decades, so the majority of the questions are based on those countries, but there are also questions about Artists and Songs from many countries in the World if they've had success in the USA or UK, making this a Global Pop Music Quiz Book!
100's of questions in multiple genres of Pop music are covered in the quiz, if your favorite music genre is missing, we apologize! But you'll still find, Pop, Rock, Metal, Punk, Rap, Hip Hop, Soul, R&B and much much more! From the birth of modern music up to the present day!
All sorts of questions are covered - Number One singles, Best Selling Albums, Debut Releases, Stage Names, Births, Deaths, Eurovision Winners, Awards Winners, Music Pioneers, Groups Forming, Groups Breaking Up, Major Music Events and lots more!
For hours of fun, debate and puzzling enjoyment, make sure you get The Ultimate Popular Music Quiz Book today!