Violin for Beginners: The Complete Guide to Learn to Play Violin in a Simple Way. Includes Music Theory and Sheet Music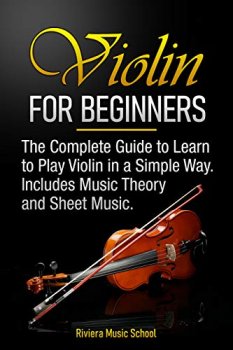 English | 2020 | ISBN: N/A | ASIN: B08C9984RB | 113 pages | EPUB/PDF/AZW3 | 3 MB
Have you always wanted to learn to play the violin but did not know where to begin?
Would you like to further your passion for music by knowing how to play the violin?
If you answered "yes" to any of these questions, keep reading.
Music is the language of the soul. It is a way to communicate your dreams and passions and expressing yourself profusely. Music can help you transcend the ephemeral nature of life and make you feel elated in the spirit. It can help elevate your perspective of life and the world. Sadly, a lot of people don't really understand the role of music in our lives.
A great way to understand and practice music is by learning to use the violin. The instrument is small but grand and facilitates the playing of a wide range of notes. It is one of the centerpieces of an orchestra but is equally as versatile when played by itself. This book will guide you on how you can learn to play the violin so you can better appreciate music even if you have never played an instrument before.
Here's a preview of this wonderful book and what else you'll learn:
What is the violin, what is its anatomy, and how does it work
What do you need to know before purchasing a violin, and how do you care for your very own musical instrument
What is the best way to learn how the musical notations work, what are different types of notes and how do you learn to play them
What are the further nuances of learning to play the notes, and solidifying what you have learned through practice
How do you tune your violin, and how do you handle the violin to play for an audience
…. And much more!
Music can be your companion for life. You can always learn something new by regularly playing an instrument. It enables you to know yourself better and express yourself in innumerable different ways. This book will help you in understanding the myriad of nuances of music through the art of playing the violin. This could be the beginning of furthering your passion for music and the many beautiful possibilities that it offers.