The Last Miles The Music of Miles Davis, 1980 1991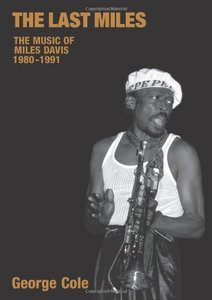 English | ISBN: 1845531221 | 2006 | PDF | 568 pages | 23,7 MB
"'The best Miles Davis book ever.' Randy Hall, singer, guitarist and producer, who worked with Miles in the 1980's 'Engagingly written from start to finish, The Last Miles is an essential portrait of Miles' last decade and a strong argument that his music was both valid and perfectly in keeping with a musical philosophy that would ultimately stretch over six decades.' John Kelman, All About Jazz 'Cole does for Miles' late work what Ian Macdonald's Revolution In The Head does for The Beatles, examining each album in meticulous detail.' John Lewis, Time Out 'Cole's certainly produced a fascinating book.' Chris Ingham, Mojo '[Miles] comes out of Cole's account larger, warmer and if anything even more important than ever.' Brian Morton (co-writer of The Penguin Guide to Jazz), The Wire 'A fantastic book, an amazing insight into Miles.' Guy Barker, jazz trumpeter 'For Miles fans, this book is a must.' Jez Nelson, presenter BBC Radio Jazz on Three 'I really do recommend The Last Miles… It is a fine work.' John Cavanagh, presenter Radio Scotland's Be-Bop to Hip-Hop 'A great book that plays a great tribute to the last years of Miles' life.' Erik Telford, presenter of Miles Radio 'Cole is a persuasive writer: he prompted me to go and dig out albums that I'd dismissed as inconsequential and listen again with fresh ears… A rewarding read.' Charles Waring, Blues & Soul 'The Last Miles needs to be covered by working musicians, producers and Miles' fans alike.' Livingstone Marquis, Straight, No Chaser" –This text refers to the Paperback edition.
About the Author
George Cole was educated at Homerton College, University of Cambridge. He is a freelance music and technology journalist whose work has appeared in Music Week, Jazzwise, the Financial Times, The Times, The Sunday Times, Newsweek, The Guardian, Empire, Gramophone, The Daily Telegraph, The Observer and The Independent. Series: Popular Music History –This text refers to the Paperback edition.
Product Details
Extract RAR5 archives

The majority of unpackers do not support the new RAR5 format. You will receive an error message when you try to open it, and there is usually no way to integrate it manually into the application to add support for it.

So, the only feasible option right now is to install Winrar 5.x on your system if you want to use a graphical user interface. Note that this is a trial version, and while it won't stop working after the trial runs out, it will nag you to upgrade the software.