TTC How to Sing TUTORiAL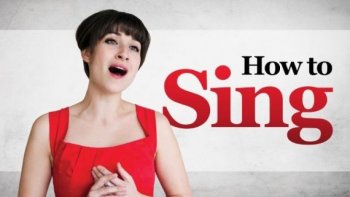 h264, yuv420p, 1280x720 |ENGLISH, 44100 Hz, 2 Channels | 18h 24mn | 13.79 GB
The human voice is an invaluable tool for speech and communication, but it is also so much more. It is one of the most accessible of all musical instruments. From opera and rock to Broadway and jazz, and so much more, singing is one of the most popular, magnetic, and emotionally resonant forms of musical expression.
Many people would love to sing but question whether they can. While some people believe they are held back by being "tone deaf" or unable to read sheet music, others doubt they have the voice range to tackle their favorite songs. In this inspiring course, celebrated singer and singing teacher Professor Dawn Pierce of Ithaca College shows you that the ability to sing is a fundamental human ability—a skill that anyone can develop and enjoy. In other words, no matter who you are, you can learn to sing!
In these 24 enjoyable and highly effective lessons, Professor Pierce demonstrates that most of the anatomical and physiological features of singing are highly malleable. She emphasizes how, with a proper understanding of these features and how to nurture them, you can develop your own voice, build solid vocal technique, and enjoy the wonder and beauty of singing. Using a wealth of fun and engaging exercises and vocal techniques, Professor Pierce leads you through the engrossing process of vocal development, in a clear and accessible program of lessons that breaks down the elements of voice technique into practical, applicable steps. In the process, you'll learn both the physiology and science of singing and the fundamentals of vocal expression and performance.
Furthermore, though Professor Pierce comes from an operatic background, she goes to great lengths to show you that the fundamentals of sound vocal technique apply to all styles of music. So whether your taste in singing is for classical music, popular music, show tunes, country, folk, or anything else, these lessons will ground you in an effective and well-produced singing technique, which you can use for any style of music that inspires you.
Build Solid and Healthy Vocal Technique
In the opening lessons, you'll get to know your own vocal mechanism, starting with warm-ups to engage with tone, and building a basis for healthy singing through finding a free and dynamic posture. In multiple lessons on the respiratory system, you'll fully explore the physiology of breath, working for a deep understanding of inhalation, exhalation, and how the phases of breath function together in singing.
From there, you'll delve into phonation or sound production, tone, and resonance, working for a clear and flexible tone, and you'll experiment with vocal sounds and colors. Throughout the lessons, you'll learn to "vocalize"—using targeted vocal exercises to build the skills of singing—while focusing on each of the core elements of a well-produced singing voice; a voice which is flexible, resonant, and free of unnecessary tensions.
Later in the course, you'll learn about your voice type and range, and you'll bring your technical skills to the exciting work of vocal communication and performance, and developing your own skill as an interpreter.
Across the span of the course, you'll work with a new song in each lesson, from familiar pieces such as "Scarborough Fair" and "Auld Lang Syne" to a body of delightful songs composed specifically for this program, giving you a wide variety of material with which to explore the specifics of good vocal technique and expressive communication. The course also includes a workbook with additional materials for building your technical and interpretive skills.
These expertly designed lessons give you a thorough and detailed grasp of voice technique, as well as the principles of vocal artistry—a rich resource which you can use to build solid skills as a singer and express yourself through any kind of music or style. Much of what you learn throughout these lessons can also help you train your speaking voice and explore the voice as a medium of expression.
Develop Your Own Unique Singing Voice
The effectiveness of these lessons rests on the masterful teaching of Professor Pierce, drawing on her decades of experience in the science of singing and its application to self-expression and performance. Teaching with passion, humor, and a deep understanding of vocal learning and training, she guides you through the full process of finding the treasures of your own voice. Along the way, you'll explore core areas of vocal training, such as:
Freeing the Instrument. As an essential basis for healthy singing technique, learn to find freedom of movement and flexibility in all parts of the vocal mechanism. Also explore spine alignment, head and neck posture, and freedom of the soft palate, jaw, tongue, and resonators. Then learn to release specific forms of tension that can cause problems for singing.
Creating Healthy Vocal Tone. Study the anatomy of the larynx, the vocal cords, and the physiology of phonation. Work with targeted vocal exercises to produce clear tone, with a free and balanced position of the larynx. And learn to achieve a clean onset of sound, without breathiness or effort.
Resonance. Study the features of human physiology that cause the vocal tract to function as a resonator, and grasp the features of voice production that give your voice its unique character and qualities. Then, practice exercises to develop resonance, and the range of vocal colors of your own instrument.
Your Voice Type and Vocal Range. Do you wonder what kind or type of voice you have? With Professor Pierce's guidance, discover how to classify your own vocal instrument, then use that as a guideline for choosing material that brings out the best in your voice and lets you shine as a performer. Also explore how to develop and maximize your vocal range.
Vocal Diction and Working with Lyrics. In the later lessons, you will encounter the vital intersection of technique and expression. Discover how to communicate meaning through pronunciation, diction, and emphasis. And apply what you have learned to mine the expressive gold of your chosen songs.
Vocal Artistry and Performance. Bring your vocal skills to fruition in expressive communication and delve into the specific artistic means by which you can interpret a text, analyze a character, find deep personal connections to your material, and communicate an expressive intention in your singing and in your performance.
Enjoy the Magic and Self-Expression of Singing
As a critical feature of the course, you'll learn how to practice, making use of the material and exercises in an effective strategy of daily work and skill building. For maximum clarity, throughout the course, Professor Pierce illustrates the lessons with numerous filmed exercises and demonstrations, aided by a group of on-camera students who demonstrate each concept and skill.
Finally, each lesson in the course comprises a substantial resource in itself. As a case in point, one lesson gives you 16 targeted exercises to work toward freedom and release of the tongue and its surrounding muscles—an essential element of good singing technique, which you can approach from a wealth of different angles, returning to this important subject as needed.
Overall, How to Sing offers you comprehensive and accessible training in voice technique, the thorough guidance of a master teacher, and a full-bodied resource for practice and future study. With these 24 empowering lessons, you can make the dream of singing a reality and express yourself through this incredible musical medium.
download from free file storage