Platinum Samples Stanton Moore Cymbal Library HYBRID for BFD and BFD Eco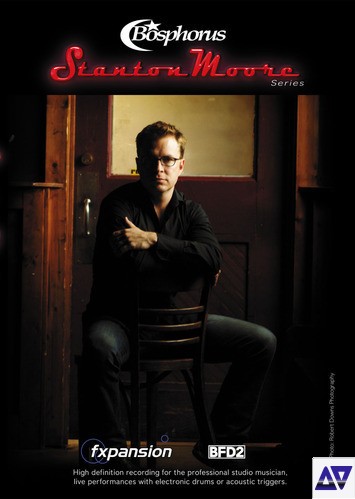 Platinum Samples Stanton Moore Cymbal Library HYBRID for BFD and BFD Eco | 2.11 GB
TEAM MAGNETRiXX 03 January 2014
Born and raised in New Orleans, Stanton Moore's playing is especially connected to the city, its culture and collaborative spirit. Modern Drummer has called Moore's trademark sound "infectious, jazz-meets-Bonham, nouveau second-line. In the early '90s, Moore helped found the New Orleans-based essential funk band Galactic. Moore launched his solo career in 1998. He has appeared on Heavy Metal Grammy nominees Corrosion of Conformity's In the Arms of God, Irma Thomas' After the Rain (winning a grammy in the process), Robert Walter's Super Heavy Organ, Tom Morello (Rage Against the Machine) and Boots Riley's (the Coup) Street Sweeper Social Club, Will BernarDiane Birch's Bible Belt, Alec Ounsworth's (Clap Your Hands Say Yeah) Mo Beauty. He continues to play dates globally with an ever-evolving cast of musicians including John Scofield; Karl Denson; George Porter, Jr., Leo Nocentelli, Charlie Hunter; Warren Haynes; John Medeski and Chris Wood, Donald Harrison Jr.Dr. Lonnie Smith, Dr. John, Tab Benoit, Robert Walter; the New Orleans Klezmer All-Stars and the Preservation Hall Jazz Band.
Moore stays involved in education by constantly giving clinics and teaching master classes and private lessons all over the world. He has been a contributing writer for Drum!, Modern Drummer, and DownBeat magazines where he was featured on the covers of more than six drum publications. In 2005, he launched a signature line of cymbals with Bosphorus Cymbals and a signature drumstick with the Vic Firth stick company. In 2009, Moore developed his own drum company to introduce his signature titanium snare drum that he designed in conjunction with Ronn Dunnett. Moore steps into the role of producer on Anders Osborne's next record due out next Spring.
The Stanton Moore Cymbal Sample Library was produced, recorded, and edited by John Emrich at his personal studio using the following equipment:
Direct Cymbal Mic - Nevaton MC49 - ATI8MX2
OH - Violet Flamingo Stereo - ATI8MX2
Room - Violet Vin50s (prototype) - ATI8MX2
Amb3 - Nevaton MC404 - Metric Halo ULN2+
Nuendo was used for the recording and Pro Tools for all of the editing. The entire collection was captured at 44.1 kHz 24 bit. The exact same hardware, cymbal placement, and sticks were used based on Stanton's live/studio set up.
BFD Eco and BFD2 are registered trademarks of FXpansion

Stanton Moore Cymbal Sample Library is a Cymbal Masters, LLC product
Instrument List:
home page:
http://www.platinumsamples.com/ps/StantonMooreCymbals.php
DOWNLOAD: •

Uploaded

•

Rapidgator
http://peeplink.in/7d538bcfd7dc