ToonTrack EZkeys Classic Electrics v1.0 WIN OSX Incl Keygen-AiR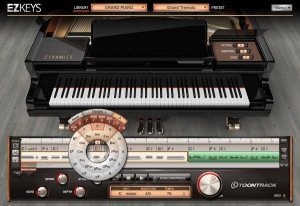 TEAM AiR | 06/2013 | 1.0GB
EZkeys Classic Electrics comes with two of the world's most defining and characteristic electric pianos, the Rhodes MK I and the Wurlitzer 200A. These instruments have been the voice of several generations and immortalized in classic songs spanning any genre from funk to soul and jazz. Captured in painstaking detail by top of the line equipment, the Classic Electrics libraries combine second-to-none playability with world-class sounds, making them just as perfect for the stage as the studio.
Details
EZkeys Classic Electrics – Sound Library Overview
Carefully sampled Rhodes MK I and Wurlitzer 200A instruments
Recorded at Toontrack Studio, Umeå, Sweden and Studio 9, Sveriges Radio, Sweden using only the best of the best in modern and vintage equipment
All sounds are designed to be mix-ready. Just pick a preset and the sound will sit right in your mix!
Uncompromising dynamic response for great playability