Sonic Charge Permut8 v1.0 WORKING (WiN and OSX)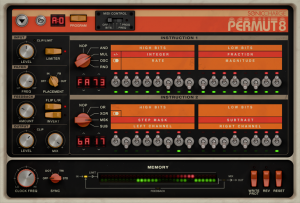 R2R | 5.9.2012 | WiN 9.8 MB | OSX 17.3 MB
Permut8 is an effect plug-in that embraces the sounds of primitive signal processing hardware. At its core is a 12-bit digital delay with variable sample rate from 0 to 352 khz. The delay is controlled by a programmable processor that allows you to change and modulate the delay time with various "operators". The input and output stages offers virtual analog components for saturation, limiting and filtering. The sound of Permut8 is raw and complex but noisy and warm at the same time.
WORKING NOTE : - WIN

Removed 2 custom bombs which make presets "oh no you didn't".

NOTE ABOUT MICROTONIC
It needs more work than others because it has multiple .text sections as we stated on the nfo. We know this developer is smart enough. Visit their forum and see how professional they are.

WORKING NOTE : - OSX

Previous release by other group will trigger custom bomb.
Reuploaded. PiRAT