DDMF Metaplugin v1.2 WiN/MAC-ST3RE0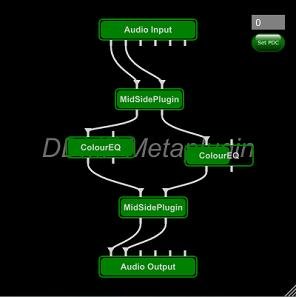 ST3RE0 | 10.7.2011 | WIN: 3.4 MB | MAC: 14.6 MB
Metaplugin is a plugin that loads other plugins. As simple as that. Build your own effect networks using any VST (and AU, if you're on Mac) effect you already have on your harddisk. To get you started, a Mid-Side matrix and a fourband crossover filter are included in the package. This means instant mid-side or multiband compression/distortion/reverb/... you name it. Metaplugin supports up to six individual channels for, e.g. surround or other multichannel purposes.
Changes in v1.2:
----------------
Metaplugin now supports up to 6 in-out-channels. This means the user can load it,
e.g., into a 5.1 channel of the host and chain plug-ins on all six channels (and across channels).
The dry/wet amount going through each of the loaded plug-ins can be adjusted now
(shift-clicking on the plug-in rectangles turns them into horizontal sliders).
The overall latency that is reported back to the host is now not only visible but
can also be changed manually.
Read .nfo file to see INSTALL NOTES
Reuploaded. PiRAT