Ursa Major StarGate 323 Reverb by krabbencutter (NI REAKTOR Block) WIN MAC FREE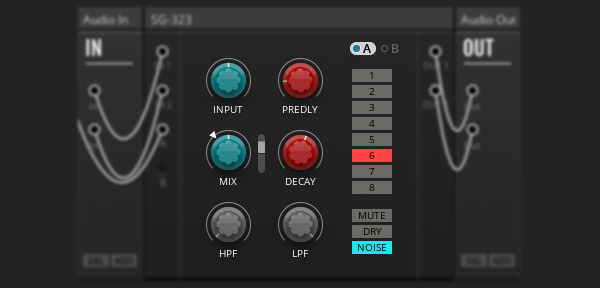 SG-323
Ursa Major StarGate 323 Reverb
DESCRIPTION
This is my attempt at a digital recreation of my Ursa Major StarGate 323 Reverb.
The ensemble is based on over 18 months of RnD, which included detailed analysis of the actual rom data, a low level emulation of the internal digital logic as well as modeling the frequency response of the analog filters.
Based on the design of the SST-282, the StarGate 323 offers eight different reverb modes, ranging from tight plates to gigantic spaces. Each mode offers a set of custom decay times, including a zero-decay setting. The zero-decay setting disables the reverb tail so that only the early reflections can be heard. This creates interesting stereo widening effects, which vary with each reverb mode. Pre-Delay is adjustable from 0-320ms and can also be used in conjunction with the zero-decay setting to create slap-back effects.
This project is in no way affiliated or endorsed by Ursa Major/AKG/Christopher Moore.
Release Notes:

Spoiler:
Note:
This is not a VST/VST3/AU but a Reaktor Ensemble that needs to be run inside Native Instruments Reaktor to function.

Easiest way to it as an FX:
1. Save the downloaded file anywhere you like.
2. Add NI Reaktor FX (not the VSTi but the FX) to your insert section of the track in any DAW.
3. Inside the Reaktor FX, go to File-> Open and find the Ensemble file (SG-323.ism).