Linplug Sophistry Ambient Synthesizer v3.0.5 + Update v3.0.8 WiN/OSX-DYNAMiCS/BEAT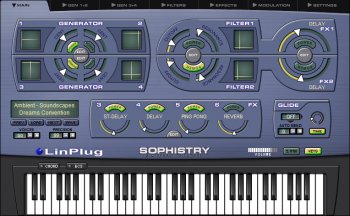 Teams DYNAMiCS/BEAT | 2006/2007 | WiN: 2.89 GB | MAC: 2.92 GB
Actually the Sophistry Ambient Synthesizer is "a CronoX3 instrument". This means that its a CronoX3 with a custom GUI and a complete new set of sounds. Sophistry is 100% sound compatible with the CronoX3 instrument software and offers exactly the same possibilities to tweak sounds or build sounds from scratch as the CronoX3. The Sophistry sounds can be loaded into CronoX 3 (and vice versa, CronoX3 sounds can be loaded in the Sophistry Ambient Synthesizer).
Features:
* Free Filter with new, continuously adjustable, modulatable filter-type.
* Loop Sampler Generator with individually modulatable loop-points and start-point.
* Versatile architecture with 4 generator modules that are mixed into two filters.
* Easy-Edit panel allowing preset browsing and quick access to main parameters.
* Powerful, editable arpeggiator with up to 32 steps.
* Stereo and 5.1 support (2 generators, both filters and 3 of the effects units can be mixed in 5.1 format. Settings are stored as part of the preset).
* Analogue-modeled Oscillator Generator for real-time analog-style synthesis.
* Time-Sampler with independent real-time time-stretching and pitch-shifting.
* Wavetable (Schrader) Generator that offers wavetable-like operation using any sample.
* Capable of loading up to 64 samples per loop sampler.
* Sampler Generators support audio formats incl. WAV and AIFF up to 24bit/96kHz.
* 2 analog-style multimode stereo filters with modulatable cutoff frequency and resonance.
* 7 ADSFR-type envelopes for controlling output amplitudes and cutoff frequencies, as well as two freely assignable Modulation Envelopes.
* 4 independent LFOs with various waveforms and MIDI-sync capabilities. LFO Waves have adjustable delay, attack and decay time and waveform-symmetry.
* Modulation Matrix with 10 routings for connecting 30 sources and 56 destinations.
* Fully recognizes Velocity, Aftertouch, Pitchbend, Modwheel and various other MIDI controllers, and includes a MIDI Learn function for easy controller assignment.
* 6 simultaneously available effects units, including various Delays, Chorus, Phaser, Filter, Flanger, Gator, Stereo Enhancer, Parametric EQ and Crusher.
* Mono/Polyphonic Portamento/Glide featuring "Fingered" mode and Auto-Bend Modes.
* Full microtonal capabilities (TUN/Scala support).
* 32-voice polyphony (CPU dependent).
Release Info:
WiN:
Linplug.Sophistry.Ambient.Synthesizer.v3.0.5.VSTi.DVDR-DYNAMiCS
LinPlug.Sophistry.VSTi.v3.0.8.Update.incl.KeyGen-BEAT

MAC:
Linplug.Sophistry.Ambient.Synthesizer.v3.0.5.VSTi.AU.OSX.DVDR-DYNAMiCS
Linplug.Sophistry.v3.0.8.VSTi.AU.UPDATE.MAC.OSX.UB.Incl.KeyGen-DYNAMiCS