VCV Rack v1.1.3 x64 VST AU WiN MAC LiN [FREE]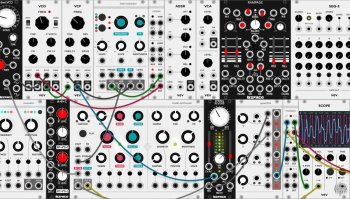 04.08.2019 | x64 VST AU WiN MAC LiN | 15 MB
Open-source virtual modular synthesizer
VCV Rack is the engine powering VCV modules. Add modules, connect cables, edit parameters, and save/load patches. Create generative patches with your mouse, perform with your MIDI keyboard controller, or connect it to your favorite DAW using the VCV Bridge VST/AU plugin (coming soon).
In Rack, control voltages and audio signals are equivalent, so you can modulate parameters with sonic-range VCOs to create customizable FM synths or chaotic wave-shaping oscillators.
1.1.3 (2019-07-23)
Include root certificate bundle for libcurl on all OS's.
Revert to OpenSSL from Schannel on Windows.
Bundle unsigned Fundamental package on Mac.
1.1.2 (2019-07-20)
Add app notarization on Mac, which removes the "Apple cannot check for malicious software" message on launch.
Write stack trace to log.txt and display dialog box when Rack crashes.
Re-enable JACK MIDI driver on Linux.
Fix scroll speed for mice and trackpads on Mac.
Fix undo history bug when dragging patch file to the Rack window.
Fix crash when pasting presets to an empty rack space with Mod-V.
Fix module expanders being assigned incorrectly when loading presets.
Add check for duplicate port IDs for modules.