D10Labo MSyn1mini v1.1 X64 X86 VST WiN MAC [FREE]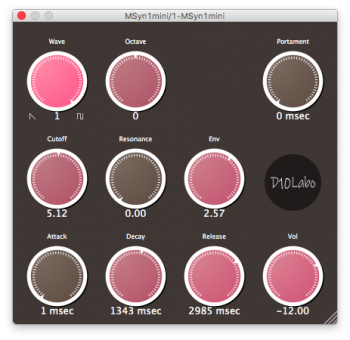 x64 x86 vst win mac, 5mb
this is monophonic synthesizer(MSyn1 is 8 voice polyphonic).
1 OSC(saw and pulse)
1 LPF(24db/oct) cutoff, resonance, Env Depth
1 ADR.
There is a portamento and volume control.
oscillator wave is anti-aliased
all controls are on the panel.
window is resizable.
Mac OS X(32-bit/64-bit Universal Binary) and Windows32-bit/64-bit
tested on Mac OS X 10.13.6 and Windows10.