Twisted Lemon SideKick5 v5.0 r163-R2R WiN/MAC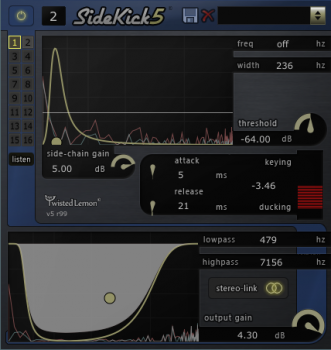 Team R2R | June 14 2013 | WiN/MAC | 14.07 MB/6.63 MB
SideKick5 makes side-chaining very easy in your VST and AudioUnit DAW. Side-chaining is a usefull tool for musicians, producers, video editors and in radio broadcasting. SideKick has helped many audio engineers by saving time while improving their mixes. Each SideKick5 you add in your mixer gets a number (1 to 16). And sends the audio it receives to all other SideKick5s in your mixer. This is done automatically through 16 stereo virtual buses.
SideKick5 is made with native C++ and is built up from 10 years of experience ever since the first version of SideKick back in 2003. To give you the most easy and enjoyable side-chaining experience. This 5th generation of SideKick5 has completely been rewritten to improve compatibility, performance and usability. Check it out yourself; download it now and run a free trial !
Compatible with:
Windows XP, Vista, 7 & 8. VST 32/64 bits
Mac OSX 10.5+ VST and AudioUnit universal x86_64
Features:
16 stereo virtual buses to use as sidechain.
Spectral ducking and keying with a notch and bandpass filter.
Intuitive filter control with a XY pad.
Visual feedback of the sidechain and output spectrum.
Listen button for auditive feedback of the sidechain channel.
Master drive control with saturation to boost and fatten your sound.
Total Recall Automation, all parameters including the sidechain numbering will be saved in your projects.
Factory and custom presets, save your favorite settings as preset within SideKick5.