FabFilter Pro-Q 2 v2.12 [WiN-OSX] Incl Patched and Keygen-R2R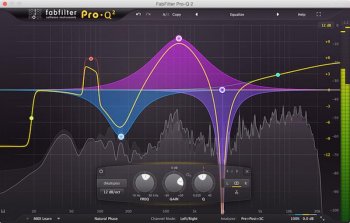 Team R2R | Nov 30 2018 | WiN 4.4 MB | OSX 4.1 MB
Pro-Q 2 offers everything that a demanding engineer could wish for: top quality linear phase operation in addition to the zero latency and unique Natural Phase modes, Mid/Side processing, variable stereo placement of EQ bands, an intelligent solo feature, optional Auto Gain and a built-in, fully customizable spectrum analyzer.
Effortlessly sculpt your sound
FabFilter Pro-Q 2 is designed to help you achieve your sound in the quickest way possible. Via the large interactive EQ display, you can create bands where you need them and select and edit multiple bands at once. Unique features like Spectrum Grab, Full Screen mode and EQ Match will speed up your workflow even more. Try it yourself!
FabFilter goodies
Of course, you also get all the usual FabFilter goodies: perfectly tuned knobs, interactive MIDI Learn, undo/redo and A/B switch, Smart Parameter Interpolation for smooth parameter transitions, an extensive help file with interactive help hints, sample-accurate automation, advanced optimization and much more.
Key Features
Highest possible sound quality
Gorgeous Retina interface with large interactive EQ display, multi-band selection and editing for maximum ease and efficiency
Up to 24 EQ bands
Operates in zero latency mode, linear phase mode with adjustable latency or the unique Natural Phase mode
Universal filter slope support for all filter types, up to 96 dB/oct
Spectrum Grab: just grab and adjust a peak in the real-time spectrum analyzer right away!
Optional Gain-Q interaction
Different interface sizes and additional Full Screen mode
EQ Match feature to automatically match the spectrum of another track via the side-chain input
Built-in spectrum analyzer with Pre-EQ, Post-EQ and SC modes, adjustable range, speed, resolution, tilt and freeze
For your collection and old project compatibility :)