Piano-Loops Country Pop Piano Songwriting Loops Ballads Vol.1 Standard Edition MIDI EZKeys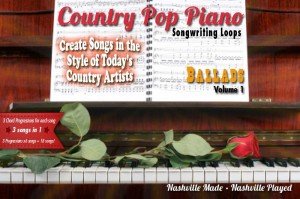 Team SYNTHiC4TE | Jan 27 2014 | 2 MB
Midi/EZKeys Format Standard edition
STANDARD EDITION CONTAINS
Aailable in Midi & Toontrack EZKeys®-ready midi and standard WAV & AIFF audio formats./a>
Full product standard edition contains 6 songs x 3-songs-in-one progressions for 18 total songs and 186 loops. You get 6 songs with 3 separate progressions for a total of 18 complete songs!
3 separate chord progressions for each song section. Each progression is a song in itself!
Song sections: Multiple sections/variations for: Verses, Pre-Choruses, Choruses, Bridges; plus: Intros, Turnarounds, Breakdowns (chorus or bridge) and Outros
Songs in a variety of tempos & keys; 4/4 time.
Chord progression chart for each section and progression (1 thru 3)
Complete guides and documentation.
Both standard MIDI + Toontrack EZKeys® ready midi.