Sounds2Inspire Darkscapes EXPANSiON FOR iNiTiAL AUDiO SEKTOR [FREE]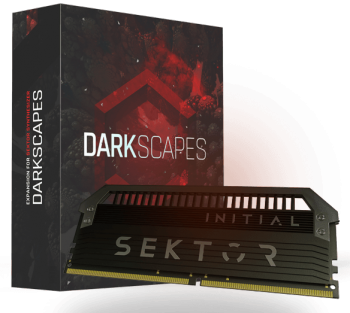 15.10.2019 | EXPANSiON FOR iNiTiAL AUDiO SEKTOR | 3 MB
Darkscapes is an expansion pack for Sektor Synthesizer, containing +100 presets. A one of a kind expansion & experience for all Sektor Synthesizer enthusiasts – focusing on immersive soundscapes, pads, basslines and melodies.
Audio landscapes from this world and beyond
Eeire Soundscapes, Industrial planes, Dark rituals & out of the ordinary presets
Presets: 100 Presets
Genre: Ambient / Industrial / Cinematic
+100 High Quality Presets Included
Dark Cinematic Soundscapes
Darkscapes is packed with +100 High Quality never heard Presets & Sounds from Sektor. With a focus on on Ambient Sounds, Pad Sounds, Experimental Soundscapes - But also exploring other areas
Costum Samples
Costum samples that fit the Darkscapes Theme - From Religious Chants, to Industrial Noises, Field Recordings, Sounds of Nature and more...
34 Soundscapes
23 Pads
Ambient Soundscapes, Pads, Moving Pads, Clean Pads, Light Pads, Dark Pads
20 basslines
This Expansion pack also features a pretty solid collection of different Basslines from Deep, Clean to Grimmey and Harsh
11 Leads
12 keys
Dark and Light Melodies and Leads
Most expansions for Sektor are directed towards Trap, Hiphop, EDM or Trance – Darkscapes takes a step in a whole different direction and another dimension.
Darkscapes focuses on Ambient Sounds, Pad Sounds, Experimental Soundscapes, some highly relaxing, others highly disturbing – Exploring the basic and advanced features of Sektor Synthesizer.
Generate unexplored, unheard sounds and realms, vast and never-ending soundscapes. This expansion pack is specially designed to all fans of Ambient, Industrial, IDM, Glitch, Chill, Techno & more. Darkscapes can also be a great ally for sound designers looking for original sounds to add their projects and arts, be it games, multimedia, music or cinema.
Made for Sektor
Sektor is a polyphonic wavetable synth plugin with a highly intuitive user interface and a lot of customization features. Sektor was built to use a low amount of system resources while having a massive high quality sound.
LiKE MY POSTS?

SUPPORT ME BY USiNG MY LiNKS (NOT MIRRORS)!

THANK YOU