Soundiron Tuned Percussion Micro KONTAKT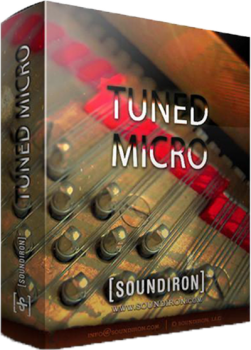 Soundiron Tuned Percussion Micro KONTAKT | 108 MB
Soundiron´s Tuned Micro is a compact yet powerful multi-instrument collection focusing on a variety of the company´s unique stringed and tuned percussion instruments, wrapped in an easy-to-use interface for Kontakt 4 and later.

Soundiron took a dozen of the popular instruments included in their Stringed & Tuned Percussion Collection and selected a core sample set from each. Tuned Micro serves as a simple but powerfully effective and fully playable introduction to the signature style, flavor, tone and quality you can expect from our full catalog. Soundiron have tapped into Bamblong, Circlebells, Cylindrum, Imbibaphones, Kalimba, Music Box, The Struck Grand, Toy Glockenspiel, Twine Bass, Waterharp, Whaledrum and Zitherette. These products can be heard in a long list of films, television shows, video games, trailers, commercials, and records around the world.