Toontrack Decades SDX (SOUNDBANK)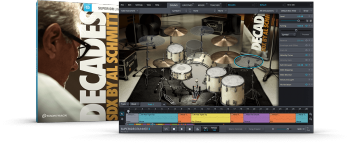 P2P | 04 November 2019 | 91.35 GB
A massive collection of drums recorded by one of the most prolific audio craftsmen of our time: Al Schmitt.
The Decades SDX was recorded at Capitol Studios and comes with five drum kits, all handpicked to represent a specific sound or era in Al's career. Expect a palette of immaculate drum sounds encapsulating not only a lifetime of experience working at the apex of the industry, but just as much a personal and reflective collection of kits that in a way represents his entire body of work. From jazz and big band to rock, fusion, pop, funk and AOR – the Decades SDX covers all the styles that can be traced back to Al's illustrious lifetime achievement.
FEATURE SPOTLIGHT
Produced by 23-time Grammy Award-winning engineer/mixer Al Schmitt
Recorded at Capitol Studios in Los Angeles, CA
Five (5) kits
12 snares, nine (9) kicks as well as a broad collection of hi-hats and cymbals
Includes several iconic original instruments, like the original snare drum used by Jeff Porcaro on Toto's "Rosanna" as well as Steve Ferrone's personal drum kit
Brushes and/or mallets available on select kits/instruments
Drums from the 1920s through the late 1990s
Recorded with an additional seven room microphones for playback in stereo up to 9.1 systems
THE MAKING OF.
Meet Al Schmitt with team and get a glimpse of what happened behind the scenes at Capitol Studios during the Decades SDX recording sessions.
ABOUT
AL SCHMITT.
In retrospect, figuring out that Al would end up behind a console is somewhat of a no-brainer. He literally grew up in a studio. Already at the age of seven, he hung out with his uncle Harry, who also was an engineer, to help set out chairs for musicians, clean patch cables and whatever came with being a helper during sessions back then.

This was in the thriving days of the late 1930s New York big band and jazz scene. That scene was buzzing, with loads of work and studios scattered all over the city. From there, his path was pretty much laid out. Working his formative years under the tutelage of many of the era's legendary engineers, he honed his craft before relocating to California. After that, the rest is music history. For real.

In fact, Al Schmitt's footprint in the recording industry is hard to fathom or even put down in words. Just the numbers alone are mind-boggling: 727 recordings, 160 gold and platinum albums and 23 Grammy Awards.

Scrolling through his discography is even more daunting – his hands and ears have literally shaped our collective music history. From now immortal icons like Ray Charles, Frank Sinatra and Sam Cooke to Madonna, Michael Jackson, Quincy Jones, Barbara Streisand and Paul McCartney – Al has worked with them all.FileHost Included:
Uploaded | Rapidgator | Katfile