Digital Juice Toxic Traxx 3 Cinematic Christmas djmusic-MAGNETRiXX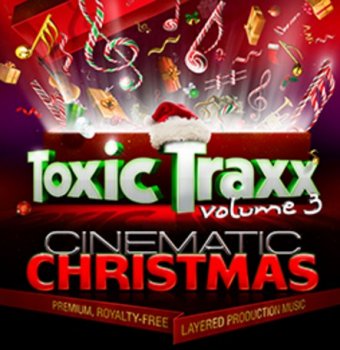 MAGNETRIXX | 2.60 GB
Toxic Traxx: Collection 3 - Cinematic Christmast - Multi music collection, specially processed for use in promotional production for the Christmas holidays! Toxic Traxx 3: Cinematic Christmas is a powerful set of energetic fun music tracks that are perfect for any promotional projects - whether trailers, movie clips, wallpapers, show or video of important events ... Each of these tracks has been professionally recorded and produced especially for you! Add in your production the same energy and rhythm that you feel when you see a popular promotional video!
As the music of MusicBox, every song from the collection of Toxic Traxx 3 contains up to 10 layers for maximum adaptability. These tracks have been compiled for use in a variety of video and film productions, remixes and ready to set up for everything from screen savers to show or film, broadcast, video and commercials to corporate presentations and promotions. And, as in libraries MusicBox, every song Toxic Traxx also comes in a standard length broadcast cuts: full, 1:00, 30, 15 and 10 seconds, so you can quickly use the track desired duration. With all this, the options settings for each song under your production are endless!
Toxic Traxx: Collection 3 - Cinematic Christmast - Premium layered production music with a Christmas carol theme. A brand new collection of high energy, layered production music, perfectly redesigned for use in promo productions! Toxic Traxx Volume 3: Cinematic Christmas is a collection of powerful holiday tracks with a special, magical feel. These redesigned Christmas carols are perfect for adding that holiday energy to any production - whether for trailers, commercials, show intros or event videos. The songs in this library maintain the traditional feel of the original carol, while still offering a fun and unique promo sound.
Like the songs in our MusicBox product line, each song in Toxic Traxx Collection 3 contains remixable layers for the ultimate in customization. These tracks are composed for use in a variety of video and film productions, ready to be remixed and customized for everything from Christmas-themed show or movie opens, compilation videos and broadcast commercial spots to show reels and holiday event promos. Each of these tracks was professionally recorded and produced specifically for you!
And, as with the MusicBox libraries, each song in Toxic Traxx also comes with custom edited standard length broadcast cuts in full, 1:00,: 30,: 15 and: 10 lengths so that you can quickly grab the track you need. With all of this, your options to customize and make each song fit your production are endless. And because this is an instant download collection, you can get the tracks you need as soon as you want them!
Though the type of music offered in each product line may be different, both products are delivered in the popular STX layered format. Each MusicBox library offers a wide range of exciting content on DVD so you have a vast library with a variety of style and mood choices to filter through. Toxic Traxx, on the other hand, has been designed and composed to keep today's trends in mind, so when you purchase any of its volumes, you have a compact, specific and highly useful collection.
Features:
- 12 Original Cinematic Christmas Scores
- Complete customization: Use the tracks as they are delivered or take them apart and remix them to suit your projects. Using our free Juicer software, it's up to you how you mix these layers. Need just a simple underscore? Turn on only the Drums, Bass, Piano and Strings and mute the Lead, Melody, and Synth layers. You can then output a stereo mix or each layer individually for further level control in your NLE of choice.
- Layered tracks: Each song contains up to 8 remixable layers for the ultimate in customization. These layers include the Lead or Melody track as well as instruments such as Guitar, Bass, Piano, Organ, Strings and Drums - in addition to extras such as Percussion FX and Synth layers.
- Broadcast Cuts of each score: Full length, 1:00,: 30,: 15 and: 10
- 100% Royalty-Free: Buy once and use in all your projects
- High Quality: Recorded natively at 16 bit, 44.1khz - Stereo Broadcast Quality Audio
- Compatibility: Compatible with any computer-based editor
- Requires Juicer version 3.89b or above
download from free file storage