Sonicemulation Topaz Studio Kit Vol.1 GIGA-CHiC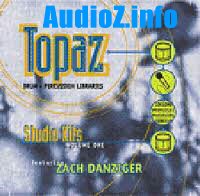 Team CHiC | 2003/08/16 | 175 MB
Topaz Studio Kits Volume One - Experience the ULTIMATE in live acoustic drum sampling with this unique library created by SonicEmulations especially for Bigga Giggas. Features 8 complete virtual drum kits created from Yamaha and Gretsch premium acoustic drum sets! From large rock kits, to studio and pop kits, to acoustic jazz and jungle, you are sure to find the ideal drumming solution here in Topaz Studio Kits Volume One.
All kits played by New York session drummer Zach Danziger.Designed for maximum flexibility to give your music the energy of live drumming!
Fully utilizes the expressive power of GigaSampler and GigaStudio. Lightning fast performance, even on modest systems. Outstanding value.
Zach Danziger has been well known in musicians' circles for some time, having recorded with such artists as David Holmes, Manic Street Preachers, U2, Jim Beard, Bill Evans, and Randy Brecker.