Foil Imprints Uber 8 (Drum Sample Pack) Ableton Live ADG WAV [FREE]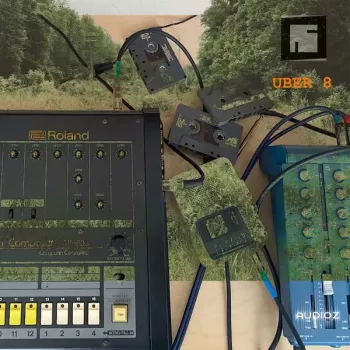 25/01/2023 | WAV | 227 MB
Raw, iconic, timeless and genera defying — UBER 8 is a drum focused sample pack using the iconic original TR-808 as its source — created using tape and an extensive collection of analog effects, pedals and vintage synthesizers. It features 21 Ableton ready kits which include a variety of colors of full 808 kits, and a bunch of kicks, snares, claps, high hats, claves, cymbals, toms, and percussive fx. It also features 62 unique loops set to a range from 57 to 152 BPM.
Key Highlights:
21 complete 808 kits which include 2 clean kits, 9 analog overdrive flavored kits, 3 tape kits, 4 vintage reverb & delay kits, 2 modular delay combination kits, 1 FX kit, 1 combination kit
9 Kits featuring 16 varieties of kicks, snares, claps, high hats, congas, and toms
62 Loops run through tape, analog effects, hardware compressors ,tape echoes, pedals, vintage synthesizers, and modular effects
Kits are accessible using a simple and highly customizable Ableton instrument rack or as individual WAVs
The Ableton instruments consist of one combination kit and twenty individual kits. The combination kit lets you switch between samples from any of the kits using the "color" macro
Eight macros which include basic functions that you'll likely want to tweak such as tune, decay & release, low pass filter, reverb dry/wet, reverb decay, pitch envelop amount, and volume.
Eight hidden macros include more detailed functions including fine tune, pitch modulation amount and rate, random panning, looping and loop length, and sample start
The macros function for each individual drum sample in the drum rack, giving you a detailed level of control over your kit
Loops include a range of kicks, snares, high hats, full loops and top loops run through tape, analog effects, and overdriven through analog filters and hardware compressors
All samples recorded at 24 bit 44.1 kHz via Apogee Symphony I/O and various preamps, edited, time corrected, and minimally eq'd for detail and low end balance