Cymatics Infinity Melody Collection Preview Pack WAV MiDi [FREE]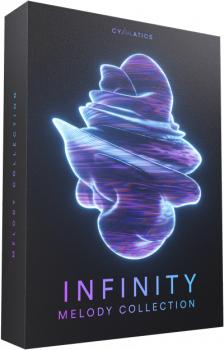 FREE | 17 June 2022 | 670 MB
Download 15 Free Melodies From The Infinity Production Suite
Full version will include a much larger melody collection!
What is included with Infinity Melody Collection?
We decided to release some free melodies from Infinity, to give you a taste of what's to come when we release the full collection on July 8th 12PM EST!
Lately, our team has been experimenting with a ton of genres and styles when it comes to making melody samples. And the best part about this is, they're able to take different ideas from each genre and come up with some really unique melodies that work for any style.
The melodies inside this pack work especially well with RnB, Pop, Trap, Dancehall, and even EDM genres like House... But they honestly sound incredible with any genre of production. Each melody also incorporates heavy vocal influence, whether it be vocal chops, loops, or phrases throughout each sample.
And you also get the full stems for every melody, so you can take the vocal sample stems and get even more creative with those.
*Once you download the pack, you'll get a chance to see what is included with the full collection and a chance to join the Waiting List. Joining this list gives you a 1 hour head start to secure a license when it's released on launch day.
download from free file storage