Audio Animals 130 BPM Live Drum Loops WAV [FREE]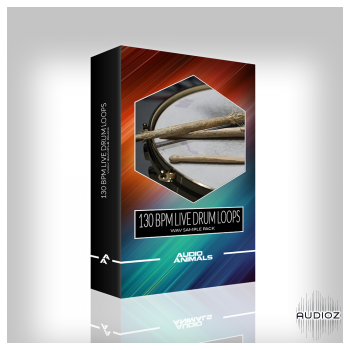 30.05.2019 | WAV | 125 MB
130 BPM Live Drum Loops is a free sampler of our Live Drums Library. The free sampler includes 1 of 6 sample packs in the complete library and showcases the variety of drum loops found in the other 5 packs. Drum loops in the free sampler include cymbal loops, hi-hat loops, kickless loops, tom rolls, snare builds, drum breaks and kick snare loops. The complete library includes 501 single hits including various kicks, snares, toms, hi-hats and cymbals. Drum hits can be used to build your own loops or add to the existing loops.
100 Samples
100 Wav Samples (129mb)
PROFESSIONAL DRUM PATTERNS
Each loop is unique in it's own right and played live by a professional session drummer. Drum loops have a natural feel and rhythm to them throughout the entire sample pack. Lots of drum variations including fills, breaks, shuffles and flams.
WIDE RANGE OF LOOPS
Not only does this sample pack have hundreds of quality drum loops, we have also recorded kickless loops, kick snare loops, hi-hat loops, tom rolls, snare rolls and snare builds.
FULL LIBRARY INCLUDES 6 DIFFERENT BPMS
BPM's include 80, 120, 130, 140, 160 and 175 BPM. Including such a large range of BPM's ensure the library is user friendly with a good number of different genres.
130 BPM FULL KIT LOOPS
12 - Break Loops
17 - Cymbal Loops
7 - Drum Loop Breaks
10 - Drum Loops
15 - Hi-Hat Loops
9 - Kick Snare Loops
11 - Kickless Loops
8 - Snare Build Loops
11 - Tom Roll Loops