Freak Music Chillstep Breathe WAV MiDi VSTi PRESETS DAW TEMPLATE-DISCOVER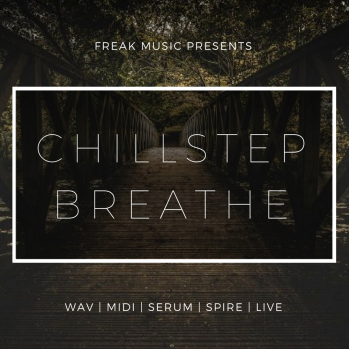 DISCOVER | February/23Th/2019 | 555MB
Freak Music is proud to present a huge collection of chillstep, chillout, chillwave and ambient sounds - "Chillstep Breathe". This product will be your number one source for the next chilling production. It's filled with huge drum loops, samples, MIDI construction kits, Serum and Spire presets, vocal kits, background textures and of course.. an Ableton Live 10 template from the demo with all stems, MIDIs and presets included. With this collection you'll be able to create something fresh in your favorite genre.
This immense product comes with hundreds of sounds designed for producers of chillstep, chillout, pop and synthwave. Each folder comes with a variety of different sounds & song sections, with presets, MIDI constructions and WAV loops provided. Also, we included 40 background textures, containing birds, wind, storm, rain, waterfall sounds, soundscapes, piano licks, cat purrs, brainwaves and low flute improvisation.
We also included "Liquid Claps" product here - perfectly sounding claps paired with water drops, ice cracks, glass breaks, crushes, key-drops, and more. Everything is pure, clean and ready to use. You will find classic one-shots, pre-shifted samples and much, much more content. In addition to that, some perfectly crafted Spire and Serum presets are included to fit your MIDI files. Inside this refreshing pack you will find samples created with maximum precision and made with using extraordinary tools. If you are looking for inspiration for your chillstep productions, this package is the right thing for you.
The additional Live 10 template shows how to create a professional track in the style of emotional chillstep. You will be able to dissect the overall song structure. It includes a complete arrangement with effects, MIDI data, automation, samples and presets. Take apart and learn from the drum programming and processing. Learn to program the rhythm and beats like all the best.
Discover how we programmed the beats and melody by midi and sample usage. This template can be used as a base for your upcoming tracks or as an educational and inspirational tool. All sections are color-coded and named correctly so you know exactly what you are looking at. Even if you're not an user of Ableton Live, you will find all of the loops, samples, MIDI sequences, WAV patches and presets exported separately in the folder!
We have included midi files for absolutely all melodic content giving the end producer 100% control to change tempo, velocity or key and also customize the loops to your own exact requirements. You'll get melodic loops featuring chord progressions, so the final track sounds absolutely professional and top quality.
Drop fresh new content directly into your projects or chop and splice for creative inspiration & ideas. Get that slick pro-sound straight out of the box and take your productions to the next level! This pack is 100% royalty free content, so you can use content from these kits in your tracks and sign them to a label.
......:::::: Product Specifications ::::::......
•
Format:
(.WAVs)& (.MIDIs) & (.Synthesizer VSTi Presets/SoundBank) & (.DAW Template/Project)
• 010 x (.MIDIs) Construction Kits - (Including: 30 x (.MIDIs) Files)
• 010 x Mixed & Mastered FullMix/Preview Demos - (.WAVs)
• 040 x
Background Textures:
• 005 x (Birds)
• 004 x (Brainwaves)
• 002 x (Cat Purrs)
• 002 x (Low Flute)
• 003 x (Piano Licks)
• 005 x (Rain)
• 005 x (Soundscapes)
• 005 x (Storm)
• 004 x (Waterfall)
• 005 x (Wind)
• 025 x Drum Loops Kits - (
Including:
102 x (.WAVs/Loops) Files)
• 025 x Mixed & Mastered FullMix/Preview Demos - (.WAVs)
• 030 x
Drum Samples:
• 006 x (Claps)
• 007 x (Hi-Hats)
• 005 x (Kicks)
• 003 x (Percussions)
• 009 x (Snares)
• 072 x Liquid Percussive Claps
• 010 x Vocal Loops - (
Including:
10 x (.MIDIs) - 10 x (.WAVs) 10 x (.Samples) Files)
• 015 x Synthesizer VSTi Presets For (Xfer Records Serum)
• 015 x Synthesizer VSTi Presets For (Reveal Sound Spire)
• 001 x Ableton Live Template/Project - (
Including:
• (.Loops), • (.MIDIs), • (.Synthesizer VSTi Presets), • (.DAW Template/Project)
• 522 x Files In Total
• Key And Tempo-Labelled
• 24-Bit/44.1kHz High Quality
• Compatible With All DAWs
• PC & Mac Compatible
• 100% Royalty-Free
......:::::: PRODUCT DEMO/PREViEW ::::::......