Cinematique Instruments Vertigo Flute KONTAKT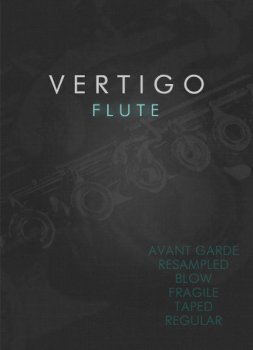 KONTAKT - 640 MB
Vertigo flute is another addition to our symphonic range.
As a further member of our Vertigo series it inherits similar sonic characteristics, namely the warm and gritty tones of the Vertigo instruments.
We put a lot of effort into creating a diverse range of articulations allowing the user to blend from subtle tones to more experimental soundscapes. The effects section of our Vertigo engine enables you to tweak sounds to create anything from cozy warm pads to rougher sounds.
All in all, the Vertigo Flute is a versatile and easy to use tool for sculpting textures fitting for film but feeling equally at home among every producer looking for organic, breathy and unique timbres.
Essentially Vertigo Flute is a melange of 16 meticulously selected flute articulations and additional sounds which can be mixed freely to fullfill your creative vision in an intuitive and easy way.
The overall sound is characterised by a warm and raw flute ensemble, with a special organic flavor. 

Our aim was to to deliver an unnique and inspiring flute ensemble. We recorded different articulations (regular, fragile, taped, avant garde, resampled and blow) with a varying amount of players. All sounds can be mixed, tuned and panned individually. Several articulations can also be varied in the amount of players. Vertigo Flute comes with 13 presets to provide instant playable ensembles.
All of these aspects come together to form the beautiful, rich and organic sound that is Vertigo Flute. Because its unique assortment of sounds such as raw flute sounds or resampled sources as well as its organic human feel, it is a very special library. Please feel free to download the reference manual.
The manual is embedded in the GUI of the instrument. You can find it by pressing the info 'I'. If you are looking for a pdf or similar, please have a look at the manual of Vertigo Violin or Vertigo Strings, because the general functions are the same.
THIS IS WHAT YOU GET
Vertigo Flute provides 16 different sound sources:
- Regular (A, B and 6 players), usual flute tone
- Fragile (1 and 4 players), played very softly
- Taped (1 and 4 players) - send thru tape devices
- Avant Garde, four articulations with motions inside
- Resampled, three articulations manipulated by hardware gear
- Blow (1 and 3 players) just the airflow without tone
All these sounds result into a wonderful tool to easily achieve inspiring as well as unique flute ensemble sounds. It gives you a rich and deep sonic experience.
13 pre-defined ensembles
in order to get pre-defined ensembles, there are 13 inspiring presets available, giving you a powerful set of sounds.
Randomize
let´s Vertigo go random by using the 'Dice' option.
6 additional fx
beside a tone control, attack, decay there are two control called 'Fog' and 'Retro' which let the entire instrument sound vintage and rich.
6 reverb typles
beside several different sizes you get special types such as infinite and deep valley.
MW volume control
easy adjustable volume control by the modwheel.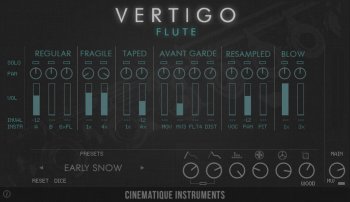 LISTEN TO SOME AUDIO DEMOS
KONTAKT 5.6.8 OR LATER FULL VERSION REQUIRED!