Sennhiser DrumMica KONTAKT [FREE]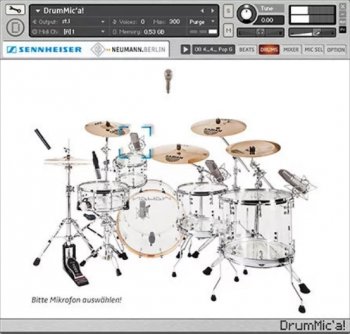 04.12.2019 | KONTAKT | 4.77 GB
DrumMic'a! is an extremely elaborately produced virtual instrument for the KONTAKT 5 PLAYER from Native Instruments. Among other things, it comprises, more than 13,000 audio samples and around 20,000 lines of program code.
What to expect: 15 Sennheiser and Neumann microphones on a genuine drum set, recorded in a real, professional studio, reworked through the integrated software studio. Plus 1,200 authentic beats played by a lively professional drummer.
The more than 13,000 "sound snippets", from which the virtual drum set was recreated, were played by a professional drummer on a carefully selected drum kit and recorded with high-end microphones in a recording studio with excellent acoustics. The mouseover function in this window lets you see the possible microphone positions; click on them to see the mic selection window where you can select the individual microphones – all "Made in Germany", by the way.
Mic Selection
For every possible microphone position on the individual instruments in the drum set, DrumMic'a! suggests the most suited microphone and shows a typically ideal position in the preview window (namely those with which the instrument was recorded) and provides you with the most important product info.
Mixer
The channel strips on the specialist digital mixer correspond from left to right with the order of the microphones placed at the drum. You can use the faders, panorama faders and integrated studio effects (equalizer, transient designer, compressor) of the virtual studio mixer to edit all the individual sounds and the overall result professionally and mix it to a homogenous sound.
Options
The options view lets you change other settings such as the velocity performance (response behaviour of the key stroke or drum trigger) and the MIDI mapping (the distribution of individual drum instruments to individual keyboard keys).
Beats
In the Beats browser, you can see a folder structure displaying the MIDI grooves. Double click to load a particular file to the internal MIDI player in the navigation bar (top), where you can hear it. If you like the MIDI groove you selected, you can simply drag-and-drop it to the timeline of your sequencer application (Logic, Cubase etc.) By stringing together the right MIDI grooves you can arrange an entire song with drums. 1,370 authentic drum grooves, fills and intros – filed by genre – give you plenty freedom to find your favourite style and create your own sound.