Loopmasters Speaker Junk Bass Heavy House MULTiFORMAT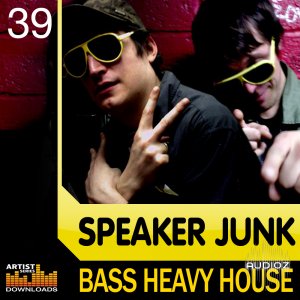 MULTiFORMAT | 229 MB
Loopmasters are very proud to bring you producers out there a very rare and exclusive collection of samples from the current kings of the dancefloor, namely Herve and Trevor Loveys aka Speaker Junk.
Fusing the electro mash up sound which has ignited dance floors across the globe, creating Fidget House and and then instantly moving to Ghetto Bass and now onto Bass Heavy House, and working with the absolute cream of the crop in Dance Music, this pair leave the rest guessing, and for the first time ever have been persuaded by Loopmasters to lay down some of their trademark sounds and samples for future producers of House, Breaks and other dance floor filth to get busy with!
Herve aka Joshua Harvey is a producer, song writer and DJ. You may also know him as The Count (with Sinden), Voodoo Chilli, Speaker Junk, Action Man, Dead Soul Brothers, Cheap Thrills and Young Lovers. Trevor Loveys aka Speaker Junk , Voodoo chili, Tragic Magic, Machines Don't Care, Switch, Dubsided, and House Of 909 is also a producer of note. And when these guys get together future classics are almost always created!
Within this awesome collection of musical inspiration creative producers of many genres will find a fresh palette of Electro Fusion which tips the scales at around 285MB of loops between 120-130 bpm, with 117 Loops and 200 Single Sounds ready for mangling and sonic manipulation. Also included are 50+ ready to play patches for Reason NNXT, Halion, EXS and SFZ samplers.
Looking more closely at what Herve and Trevor Loveys have brought to the table, you'll find Bass Heavy House contains 12 Slamming Bass Loops, 66 Ultra programmed Drum Loops, 23 Pads, 16 Vocal FX Loops, 14 Single Bass Sounds, 28 Dance FX, 6 Pad Hits, 14 Vocal Widgets, 24 Dry Vox, and more than 100 Single Drum Samples from their archives including 14 Claps, 15 Hats, 70 Club Ready Kick Drums, and 15 Snares.
In essence if you have jacked out to the sound of Ghetto Bass, experiment with the Fidgety Grooves of Bass Heavy House, or are looking to inject some of the dirt from the edge of Club land into your sound, then this Electro Tech selection from the cream of the crop should be just what the Doctor ordered. Sample and Hold.
Please Note: When selecting the appropriate download version for your requirements the Zip (Main) format includes Acidised Wav and Rex2 Loops - all single (non looping) sounds and Sampler Patches for Kontakt, Halion, Nnxt, Exs24 soft samplers. Reason Refill, Ableton Live Packs and Apple Loops are not included, and must be purchased where available as a separate downloads. Apple Loops packs also include any single hits and EXS patches where applicable. If in doubt we recommend you purchase the Zip(main) format which is usable with nearly all music applications and software.
Tech Specs:
285MB of Content
117 Loops
200 Single Sounds
50+ Patches for NNXT, Halion, EXS and SFZ
66 Drum Loops
12 Bass Loops
23 Pads
16 Vocal FX Loops
14 Single Bass Sounds
28 Dance FX
6 Pad Hits
14 Vocal Widgets
24 Dry Vox
100+ Single Drum Hits
Reuploaded. PiRAT