East West Symphonic Choirs KONTAKT (Slim Version)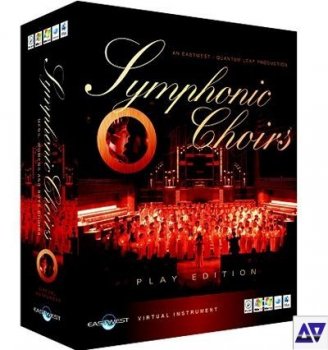 Kontakt Slim Version | 15th January 2022 | 5.30GB
Imagine typing words into your computer, in any language, and hearing a world class Symphonic Choir sing those words in any key(s) you play "live" on your keyboard controller! Well imagine no more, that`s exactly what this revolutionary "award-winning" virtual instrument does.
In addition, this is the first 24-bit Choir virtual instrument to include three simultaneous stereo mic setups (close, stage and hall), so users can mix any combination of mic positions to control ambience. The Choirs were recorded in the same concert hall, by the same team as the EastWest/Quantum Leap Symphonic Orchestra and blend perfectly with EWQLSO.
WordBuilder is the word building software that enables Symphonic Choirs users to type in words for the Choirs to sing. This included software runs on both MAC and PC, and includes a pop-down menu (under the "tools" menu) that includes 28 popular Latin phrases that you can load instantly. Many choirs sing in Latin so this is a real time saver for those on a tight deadline. The phrases have been optimized for each Choir. The pop-down menu is completely customizable so users can add their own phrases to the menu for quick and easy access.
— — — SLIM INFO — — —
This is a confusing one. There is a release which appeared on here many, many years ago, but there was also one that can be found elsewhere which worked in Kompakt, an old and limited version of Kontakt, and you can find threads on the NI forum referring to it working in Kontakt as well (maybe they were all the same).
I can't remember where I got the original full version from, but as the Wordbuilder software opens up a Kompakt window when it is loaded, I'm assuming it comes from that one (even though the instruments are Kontakt ones - I'm unaware if NKIs worked in both as Kompakt was waaaaaay before my time

).
Anyway, the Wordbuilder software will install on Windows 10 and open as an external program, and sound can be produced with virtual MIDI cables. However, it is 32-bit which meant I couldn't get it to appear in my DAW (Studio One 4/5) without the use of jBridge, and even then I was never able to figure out how to route the signal chain into the DAW correctly.
In the end, I gave up trying and just used the patches I needed and built the words I wanted by hand, and did all the editing the plugin would have let me do in the same way. It was VERY time-consuming but the result was pretty good (PM me for a link if you want an idea of what's possible if you're prepared to put the effort in)
Every vowel and consonant was split into its own patch by default which I found very unwieldy and ended up being visually messy, so I built an NKI for each of the SATB sections that contained all the vowels, another with all consonants, and a third for the FX. So all the instruments (apart from Voices Of The Apocalypse and Wordbuilder) have a keyswitched alternative if you prefer to work that way.
I added a graphic and some basic scripting so the keyswitches are coloured by sample group (sustain, staccato etc) and hovering over each one will tell you what vowel/consonant/FX you will get. You'll find these in the Instruments tab under Multis (the multis in the multis tab are different). All the under-the-hood stuff in terms of sample grouping, mapping editor, wave editor, ADSR, modulation etc. is copied from the original so if it sounds bad/odd, it's not a mistake on my part - it's how the original sounded!
It took a long time to make all this, and it is probably redundant now Play and Opus have been unlocked, but perhaps it will be a neat little curiosity for somebody. If so, I hope you have fun with it

TLDR:
- Library size is 5.30GB (unpacked)
- Vowels/Consonants/FX are offered in their original single patches, plus custom-built keyswitched patches (not including VOTA and Wordbuilder)
- Samples were recorded in Close, Stage and Far positions, but individual volume levels were not customisable in the original without going into the sample editor, so nothing has been removed this time
- Wordbuilder software is included, works as a standalone program, but will probably not work in a 64-bit DAW even with workarounds
- Wordbuilder multi patches will not work in Kontakt AFAIK
- Samples reduced to 16bit from 24bit
Mirrors are welcome.