Audio Ollie LA Modern Percussion v1.1 KONTAKT (Slim Version) (Original release by Team Decibel)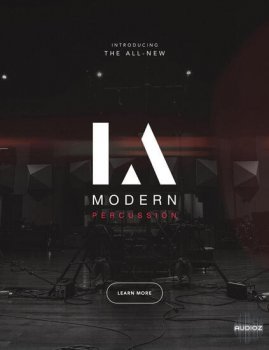 Kontakt Slim Version | 15th January 2022 | 2.27GB
Audio Ollie teamed up with the legendary scoring mixer Alan Meyerson to bring you his iconic, distinctive percussion sound, heretofore unreplicable with the existing tools and libraries. To capture this aggressive, wide, and larger-than-life sound, we used the exact set up Alan does on his blockbuster projects -- we brought in four of LA's best percussionists to Warner Brothers Eastwood stage and followed his formula every step of the way, from the mic selection to the final mixes. The painstaking dedication to every last detail was well worth the effort! We are incredibly proud to introduce our new collaboration and flagship instrument--LA Modern Percussion.
The Concept
LA Modern Percussion was designed to be tweaked, mangled, and customized by the creative user. With 15 mic options, a dedicated effects chain (modeled after Alan's workflow), bus routing, and various patch types crafted to be stacked and layered, the creative possibilities are almost endless. By providing these basic building blocks, the stage is set to build and sculpt entirely unique drum sounds. By combining many different percussive sources, all with unique processing and humanization features such as looseness and random velocity, we've provided a massive set of creative content in the form of multis.
User Interface
The user interface was built to maximize efficiency, and improve workflow. It includes features such as dual band AHDSR mods which are linked to high and low pass filters for surgical sound shaping, a preset system which allows you to save any of the UI settings, and advanced controls which can adjust the dynamic curve, transposition, and pitch of the instrument.
Patch Types
Dynamic Hits - These patches feature an average of 25 dynamic layers mapped across the keyboard from low to high. This unique approach has an extremely low CPU requirement which makes them ideal for layering.
Traditional Hits & Rolls
- Your traditional percussion patch with up to 7 dynamics, 9 round robbins, and dynamic rolls controllable via mod wheel. All of the major ensemble types have a traditional hits & roll patch to complement the dynamic hits.
Fills
- Small musical performances which were designed to be pieced together to create realistic energetic rhythms. The start times can be adjusted via keyswitch to further customize the fill patterns.
Improvs
- Single long improvisational performances which add a looser, more human aspect to your productions. Keys trigger sample start time from low to high.
v1.1 Groove Engine
Our powerful groove engine has taken LA Modern Percussion to all new heights. Featuring four unique sequencer builds, dynamic step modulation, and the ability to assign individual drums to their own keys, you can create evolving, playable patterns. Watch the video above or preview the grooves to the right to learn more.
— — — SLIM INFO — — —
- Library size is reduced to 2.27GB (unpacked), down from 26.58GB - a reduction of around 91%
- CL (Close) and MR (equivalent of Decca/Stage) mic mixes remain in order to preserve the detail of the instruments and the sound of the room - all other mics and mixes are removed as they can either be replaced with reverb or lacked clarity/were unnecessary (for me at least)
- Samples reduced to 16bit from 24bit
- Works in Kontakt 6.1.1 upwards
The multis still work but some instruments within them originally used mics/samples which have been removed in this version, so they will sound different to the original release. Turn the CL and MR mics on and adjust accordingly if desired, but be aware that may not be enough to fully replicate the original patch!
Mirrors are welcome!